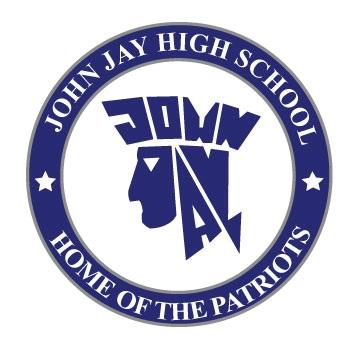 John Jay Morning Announcement

Friday, January 17, 2020

Today is Day 1

ATTENTION ALL STUDENTS :

If you are not taking a regents exam next week January 21st-24th you are not to attend school !

ATTENTION BOCES STUDENTS:

Boces is open next week 1/21 – 1/24, and transportation will be provided from John Jay. Attendance is required unless the you are scheduled for an exam. All other students not present at Boces will be marked unexcused. If you have morning Boces there will be transportation home after you get back to Jay. If you have afternoon Boces you must take your regular bus in the morning and you will have to wait in the Cafeteria until the afternoon Boces bus comes, unless you have your own transportation, then you can come in right before the afternoon Boces bus arrive.

ATTENTION STUDENTS: PLEASE READ AND ABIDE BY THE FOLLOWING IMPORTANT ANNOUNCEMENT: Regents week will begin on Tuesday, January 21st. Only students who must re-take regents exams are required to attend, unless you have been

otherwise directed by your teacher or guidance counselor. All students

who will be testing must briefly meet with their counselors before

Friday to ensure you know where you have to be and when. The entire

exam schedule is on the JJ web page, the district web page and posted

in multiple locations throughout the building including the main lobby

and cafeteria. Room assignments are posted in the café and on the

bulletin board outside of room 101. As always, electronic devices of any

kind, including cell phones and smart watches, are prohibited in exam

rooms. Faculty and staff are not responsible to store your electronic

devices, so plan accordingly.

STUDENT GOVERNMENT: The next student government meeting will be on Thursday, January 30 at 2:30 in room 191. Any club interested in participating in the Winter Carnival please check student government Google classroom page for sign-ups.

If you are signed up to take DCC PIG next semester with Mr. Mcilwee, please see me in rm 243 as soon as possible

CLASS OF 2021: We will be having a bake sale Today, January 17th . we need bakers and sellers for all lunch periods. Remember Prom will be here soon! Please look on google classroom or talk to an officer about signing up.

CLASS OF 2022! Please make sure to join the google classroom! The class code is r3td10.

JUNIORS who ordered class shirts - They are ready for pick up in Room 191.

Hello, Class of 2023! Order forms for our class t-shirts are posted in Google Classroom as well as available in your ELA classrooms and in the main office. If you have still not joined our google classroom, the code is yzmkp4. Please submit all t-shirt orders before Friday, January 17th

Mr. Pedota's running one boot camp today

FRIDAY, JANUARY 17TH

U.S. History – Ms. Finsmith Rm 213

The health office is now taking appointments for sports physicals for athletes who plan to play a spring sport. Please see the nurse for more information.

Superlative Winners: Pictures will be taken on Tuesday 1/28 and Wednesday 1/29 after school between 2:30-3:30 in room 153. Make sure you coordinate with your winning partner and bring any props you will want to use in your picture. Don't all show up on the last day, it does take time. If you don't come on either day, the superlative will be taken out of the book, NO EXCEPTIONS!

Twins/Triplets: The yearbook staff would like to spotlight you and your twin/triplet in the senior section of the yearbook. Pictures will be taken on Tuesday 1/28 & Wednesday 1/29 after school between 2:30-3:30 in room 153.

WAPPINGERS CONTINUING ED:

We are offering the state-mandated 5-hour course for those students with Learner's Permits who wish to schedule their road test. The next class will be held Tuesday, February 4th from 3:00-8:00 pm at Ketcham H.S. The cost is $40. To register call Continuing Ed at 298-5000, ext. 40137. Students who attend must bring their permit, a pencil, and a snack to class with them, along with cash in the amount of $40

Driver Education is accepting registrations for the Winter/Spring Driver Ed program. For dates, cost, program information and to register, go to the Wappingers website and click on the Community link at the top of the page and select Driver Education from the drop down menu. All registrations are done online through FamilyID. Space is limited! Register early to avoid being closed out!

The Learning Center is looking for tutors for all subjects. If you are interested, pick up an application in the main office.

ATTENTION JUNIORS: Class T-shirts are now available for order. Order forms are available in the main office or in rooms 191 or 245 if you'd like to order by cash or check. Online orders can be placed at our online store. Please check the junior class google classroom for on line orders.

AP EXAMS: AP exams given May 4 - May 15, 2020. There is a $40 late fee for any exams ordered after November 15th and a $40 fee for any exams cancelled by February 28th, 2020. No refunds will be available after February 28th, 2020. Check the AP exam schedule to find out when each of your AP exams are being given. Make sure there are no conflicts. If you have a testing conflict, see your school counselor.

Students with an IEP or 504 who would like to use their testing accommodations for an AP exam need to submit a request to College Board by January 17th, 2020. Testing accommodations must be preapproved by College Board's Services for Students with Disabilities (SSD). Students who have already submitted a request for College Board testing accommodations, including for PSAT or SAT, do not need to apply again. See your school counselor if you need to apply or if you have any questions.

There is a partial fee reduction available to students who qualify. See your school counselor with questions regarding this.

If your college requires 1st quarter grades and/or mid-year grades please fill out the request form which you can get from your counselor.

Project Homework: Is offered every Tuesday and Thursday from 2:20 to 3:30 in Room 198 with Mrs. Martire,

The Learning Center: is open on Tuesdays and Thursdays in room 197. We are always looking for tutors for all subjects.

CLUBS

THE GIRL UP CLUB: will be meeting Today after-school in room 220. All are welcome to attend!

FFA CLUB: January 27th will be the next FFA meeting in room 197.

Hey Hey FBLA: Are you going to states? Verify your membership by today- check google classroom.

Congratulations are once again in order for our award-winning Robotics Team, FTC Team #16700 JAYBOTS! After winning 3rd place Collins Aerospace Innovate Award at the Kingston Qualifying Tournament back in December, our team has now been recognized for their computer programming prowess as they have been awarded the 2nd Place Control Award at this weekend's Qualifying Tournament at Peekskill, NY! Special Recognition goes to Eric Levedakis and Matthew Laverde for their work on the gripper mechanism that earned the team the Innovate Award back in December, and Robert Zhu and Ashish Thomas are the MVPs who helped the team earn the Control Award this weekend.

Wish them all luck as they prepare for this weekend's final Qualifying Tournament of the season on the team's calendar at the Albany Academies in Albany, NY!

PROSCENIUM: We are proud to present A Year with Frog and Toad Tonight @ 7:30 PM, January 18 @ 4 PM, and January 19 @ 2 PM.

We are also happy to present our spring musical, Newsies, March 27 @ 7:30 PM, March 28 @ 7:30 PM, and March 29 @ 2 PM. Auditions for Newsies begin the first week of December. Click the link for more information about auditions. https://sites.google.com/wcsdny.org/newsies-proscenium-spring-2020/audition-information

SPORTS

BOWLING - JJ Boys beat previously undefeated RCK 7-0. JJ Girls also beat RCK 7-0. Marla Litsky bowled a 231; her career high game.

Boys and Girls - East Fishkill Recreation is now running a COED volleyball LEAGUE right here at JJHS on FRIDAY nights beginning April 17. $30 Register on-Line EASTFISHKILLRECREATION.COM or STOP BY ROOM 202 FOR A PAPER REGISTRATION FORM

JJ BOWLING - JJ Boys defeated Mahopac 7-0. High Games for the boys: A. DeRobertis (206, 211, 246), B. Weisfeld (204), and D. Hernandez (204). JJ Girls lost to Mahopac. High game for the girls was M. Litsky with a 197.

JOHN JAY GIRLS BASKETBALL: Will be having a fundraiser on February 7th at Jersey Mikes in Fishkill from 5pm – 9pm . Jersey Mikes will be donating 20% of their sales to us.

Congratulations to Christina Kilduff who finished in first place in the 1500 meter walk at the Suffern Invitational on Friday .

John Jay Hockey Club (JJHC) - which incorporates John Jay, Roy C Ketcham, Wappingers Junior High School, Van Wyck, Lourdes and Beacon - games this weekend: Saturday 1/18/20 @ 7:45 pm JJHC Patriots Varsity vs Orange County West Varsity at Ice Time Sports followed by JV at 9:30pm Come support your hockey players!

Athletes of the Week 1/6/20 - 1/12/20

Tyler Albis, Wrestling - 2nd place finish at Eastern States Wrestling Classic

Boys 4x400 Relay, Track & Field - won their heat last week to qualify for the prestigious Millrose Games in a time of 3:28.88. The team consists of Matt Conde, Kieran Allen, Eric Amilcar and Jonathan Mahon

Steve Holan, Swimming - Sophomore excellent effort and a sectional cut in the 100 butterfly

WAPPINGERS CREW CLUB:

ALL TRYOUTS WILL BE HELD AT ROY C. KETCHAM HIGH SCHOOL – 99 Myers Corners Rd, Wappingers Falls, NY 12590

Varsity/Jr Varsity Boys Tryouts – Monday Feb 10, 2020 at 5:30 PM

Varsity Girls Tryouts – Tuesday, February 11, 2020 at 4:00 PM

Novice Girls Tryouts – Wednesday, February 12, 2020 at 4:00 PM

Novice Boys Tryouts – Thursday, February 13, 2020 at 3:30 PM

| | |
| --- | --- |
| Red Robin Fundraiser – Thursday January 23, 2020 at 2511 Route 9 Poughkeepie, NY | |

Faculty, staff and families will continue to receive full announcements and updates. Students, for the full announcements and updates, please check your school email. Hard copies are available in the main office.