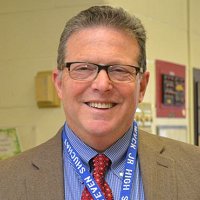 Dr. Steven H. Shuchat,
Principal
Phone: 845-227-1700 x 20005
Email: Steven.Shuchat@wcsdny.org



Biography
Dr. Steven H. Shuchat was a teacher, coach, athletic director and assistant principal prior to coming to the Wappingers Central School District as principal of Van Wyck Junior High School. He has served in this position for twenty years.
Dr. Shuchat is a summa cum laude graduate of Montclair State College, earned his masters and doctorate from Columbia Teachers College and his professional diploma from Long Island University. He currently serves as secretary to the New York State Middle Level Liaisons and a long-time member of the New York State Middle School Association.
Dr. Shuchat was active in the Duchess County Lions Club, the Council on Addiction Prevention and Education (CAPE) and current member of the ELKS Club. His present research interests are in building civic capacity and tiered professional development.
He lives in Hopewell Junction with his wife, Kenya; son, Benjamin; and dogs Hugs and Kisses. He enjoys reading, researching and swimming.