JJ Science Olympiad Results from Mid-Hudson Regional Competition
Posted by Amy Watkins on 4/8/2021
UPDATED: April 8, 2021

JJ Science Olympiad results from Mid-Hudson Regional Competition
John Jay had four teams in the Mid-Hudson Science Olympiad Regional Competition, which occurred on Saturday, March 20th, with Team A placing 2nd overall out of 27 teams in the region. Teams B, C, and D placed 7th, 9th and 20th respectively. JJ students also racked up a record number of medals this year! Forty-nine students from JJ participated in the competition, and almost all of them won one or more medals!
In total, JJ teams won 37 medals in 15 events, with eleven top-3 finishes.
Among the awards we won:
First place medals in Designer Genes (Sanjay Natesan and Ratna Sharma), Disease Detectives (Rohan Ganesan and Sanjay Natesan), and Codebusters (Scott Gremelsbacker, Aditi Rathi, and Saathvika Nagareddy).
Second place medals in Astronomy (Brandon Cheung and Rohan Ganesan), Circuit Lab (Sanjay Natesan and Robert Zhu), Forensics (Ratna Sharma and William Gee), Fossils (Adriana Bilenky and Damien Foster), and Ornithology (Adriana Bilenky and Damien Foster).
Third place medals in Anatomy and Physiology (Aryan Verma and Nathan Leobandung), Codebusters (Robert Zhu, Nathan Leobandung and Erika Huston), and Sounds of Music (Jonathan Shah and Brandon Cheung)
There were several changes to the regional competition this year, which was held virtually for the first time. For the previous two years, JJ had hosted the Regionals competition. In addition, there were no build events this year – only testing events – which caused a reduction in the number of events.
The NY State Science Olympiad Competition will take place virtually on April 10th.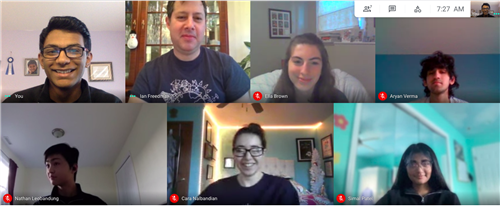 ---
WCSD Science Olympiad Teams earned 2nd & 3rd place
at this past weekend's Science Olympiad Regional Tournament!
Mr. Pogemiller-Kermani and Ms. Plassman are very proud of their teams. Van Wyck earned 2nd Place and WJHS earned 3rd Place! The top 2 teams go to the State tournament. The WJHS team is wishing Van Wyck all the best at the State tournament! Congratulations to both schools, students, and their coaches for their hard work earning this achievement!
The results were as follows:
1. Goshen Team A (CJ Hooker)
2. Van Wyck Junior High School
3. Wappingers Junior High School
4. Spackenkill (Orville A Todd)
6. Goshen Team B (CJ Hooker)
A special thank you to Mandy Zhang, a 10th grader from RCK, who came every week to the WJHS Science Olympiad meets. Mandy was our junior coach this year. She makes Google Slides and Kahoots to help the team study. She was on the WJHS Science Olympiad Team when she was in 8th grade.
Thank you everyone for your support.