Posted by Daren Lolkema on 6/4/2020 5:00:00 PM
June 4, 2020 Update
Good Evening WCSD Community:
Core Value: Diversity
THIS IS WHO WE ARE: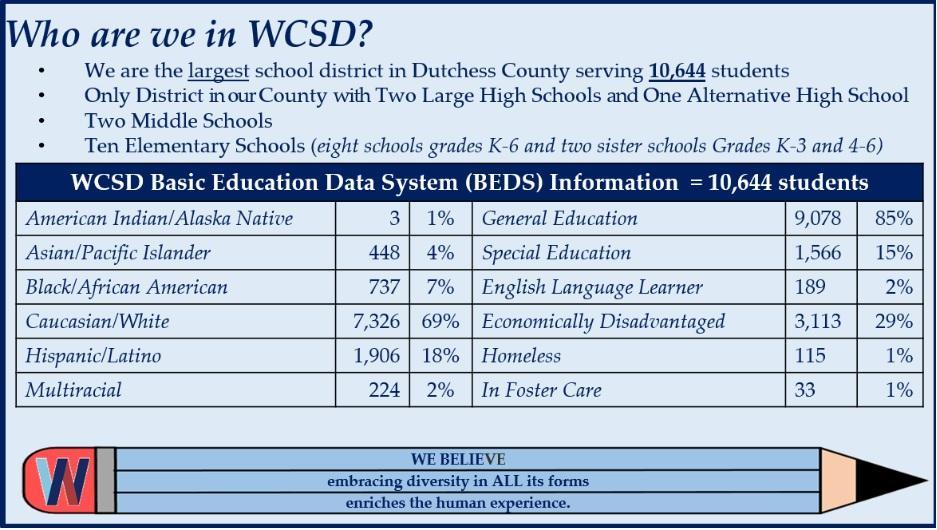 One of our Core Values in the WCSD is, "We believe embracing diversity in all of its forms enriches the human experience" and during these trying times that we are facing in our country, it is very important to know that we support ALL of our students. Discriminatory acts towards anyone that forms a part of the WCSD learning community will not be tolerated. We have a great district where students of all races, ethnicities, religions, sexual orientation and gender identity, and/or gender expression, can be their authentic selves and are to feel safe and know that we stand together against killings, hatred, violence , and bigotry.
Graduation Ceremonies
The District has been made aware that there may be some confusion in our community about the Graduation dates for both of our high schools. In our May 27th Community Update we shared that the District is planning to adhere to the Governor's Orders by creating a 'drive-thru' celebration. We also shared that the dates for these celebrations would be as follows:
John Jay High School -Thursday and Friday, June 25 and, 26, 2020
Roy C. Ketcham High School - Saturday and Sunday, June 27 and 28, 2020
We have heard from our Seniors and their families that our plan to hold Graduation Ceremonies in the evening across multiple evenings would not be their preference and less intimate. For one, it was shared that having the classes be split up between two nights is not aligned with what our students are hoping for as they prefer to graduate together, and with their friends. As the largest District in the county, along with having two large high schools, it would have been difficult logistically for us to provide a "walk the stage" photo opportunity as part of our parade on a single night (it would take too long), which is why we were originally considering two nights.
Now that we have received the approval and the go ahead with our plans, both of our high schools will celebrate this milestone with a two part event. There will be an evening parade celebration the night before we hand out the diplomas. Both high schools will provide for a memorable and fun experience that will celebrate our seniors as they (and their families) drive through the campus.
Part two will take place on the originally scheduled day for our high school graduations. Starting in the morning, we will be inviting seniors to our campus to receive their diploma, "walk the stage", and have a photo opportunity while wearing their caps and gowns. Our High School Administrative Teams will be providing sign up sheets for students to choose their preferred times to pick up their diplomas on the designated day. Although we cannot fully guarantee for all students who want to be scheduled close in time, this will help both high schools to do what they can in order to make it happen.
The dates for these events are as follows:
John Jay Senior High School Parade: Thursday June 25th, 2020 starting at dusk. Details and invitations for showing up at the staging area will be provided prior to the 25th.
John Jay Senior High School Conferring of Diplomas: Friday June 26th, 2020 starting at 9am. Details and sign up sheets will be provided prior to the 26th. (Rain date: Sunday June 28th)
Roy C Ketcham High School Parade: Friday June 26th, 2020 starting at dusk. Details and invitations to show up at the staging area will be provided prior to the 26th.
Roy C Ketcham High School Conferring of Diplomas: Saturday June 27th, 2020 starting at 9am. Details and sign up sheets will be provided prior to the 27th. (Rain date: Monday June 29th)
Once again, scheduled graduation dates will remain as indicated in the calendar and we want for our Seniors to feel the excitement of their Graduation Commencement while maintaining compliance with the Governor's Executive Orders. If there are any changes to the Governor's Order, which we doubt may happen in such a short time, we will be sure to share it and make any necessary modifications for our Seniors to have the experience they deserve.
Regents Exams Cancelled
In a previous update we shared that the New York State Education Department (NYSED) announced the cancellation of the June 2020 administration of Regents Exams and released guidance on modifications to requirements for students to graduate and earn their high school diplomas, credentials, and endorsements.
We also received notification that the August Regents Exams were cancelled as well. The impact to our students appears to be exactly the same as our June Regents takers. Details of how this change affects our students is noted in this New York State Education Department guidance document. All students who fail a Regents course in the 2019-2020 school year are eligible for a Regents Exam exemption in August of 2020 so long as the student successfully passes the failed Regents course in Summer School. If a student fails to take the Regents course in Summer School, the Regents Exam Exemption will NOT carry over to the 2020-2021 school year. The best way for WCSD secondary students to avoid this altogether is to ensure their school work is completed as we have the month of June left to complete all assignments necessary.
Please feel free to review or view for the first time the charts we created that also explains the narrative written above.
Parents Right to Decline Examination Waiver
In a memo issued to Superintendents on May 27, 2020, parents have a right to decline the Regents Examination waivers. If a parent or person in parental relation decides they do not want the Regents Examination waiver to count towards their child's graduation requirements they must complete the Exemption Declination request form found at the bottom of the NYSED issued memo. If a parent or person in parental relation declines the exam exemptions for a student who requires the exam to graduate and is scheduled to graduate in June or August 2020, then a diploma will not be conferred on the student at this time.
If you are going to accept the Exemption Declination, please make sure to fill out the form and resubmit back to the assigned school. And, if a student is not sure of their status, without hesitation they or parent should be contacting their school counselor or assigned Assistant Principal. In addition, please view our website for summer school and requirement to maintain being exempt from any New York State Regents Exams.
NYS Attendance
As of today, we have yet to hear from the Governor and the status of the last day of school. If the attendance requirements remain the same, we will conduct school as scheduled on our calendar. We will also provide you with a schedule of how the last part of the school year will conclude.
Wappingers Rewind
Prior to March 16, each week WCSD looked forward to highlighting all of the good work happening in our buildings using the Rewind. As a result of the pandemic, it has been difficult to capture how our students and teachers are doing as they navigate our new normal of learning from home.
With just a month of school left, we would like to focus our attention on a different theme each week designed to encourage everyone to look for the positive things happening in our world and share it with others. In an effort to share the "good news" happening in our world, actor John Krasinski started Some Good News from his home. Each episode showcases things that make people feel good and smile. WCSD would like to capture what our students, staff and parents are doing to feel good and smile. We have identified themes that can help inspire you.
Each week a different theme will be emailed to our students, staff, and parents inviting you to celebrate the theme. Suggestions appropriate for a range of ages will be provided, but everyone is encouraged to let their creativity shine through. Each week will also include a "Weekly Coping Strategy" that may be helpful in addition to videos and inspirational quotes all designed to help bring out your smile and inspire you.
Those interested in sharing what they are doing to feel good and smile can use this link to upload a photo of what was created or share a video. The hope will be that WCSD Some Good News will showcase how our students, staff, and parents are taking time for their own well-being. A bonus would be receiving glimpses of your work and sharing them with the WCSD community to keep the Good News momentum going.
Thank you and stay well.
Sincerely,
Jose L. Carrion
Superintendent of Schools