Return to Headlines

RCK STUDENT SPOTLIGHT FEATURES GREAT ACCOMPLISHMENTS BY OUR KETCHAM STUDENTS!
Congratulations to the students inducted into Sociedad Honoraria Hispanica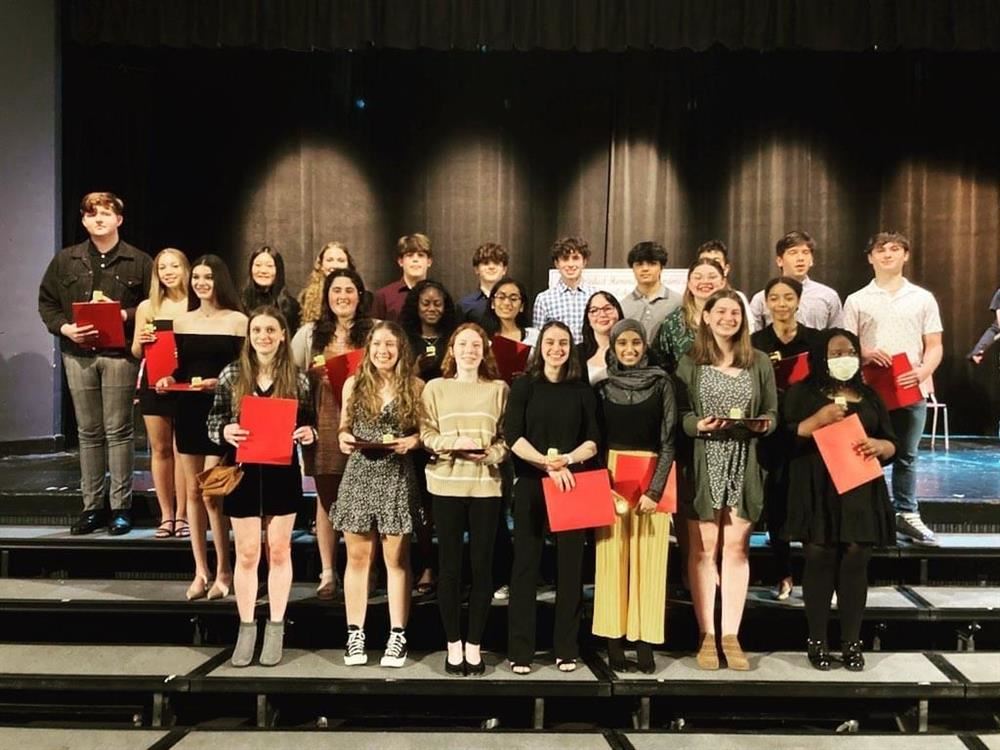 Ethan Abrahams, Nikita Amin, Marisa Belfiore, Daniel Berak, Giann Bhangoo, Victoria Brower, Kendra Campos, Sophia Cheng, Moriah Downes, Emily Duro, James Eglit, Finn Gaklik, Kevin Guerrero, Dewran Gunes, Corinne Hayward, Kiera Ignatz, Ava Maffia, Catherine McCourt, Taylor McLeod, Hilary McRae, Daniel Mejia, Sophia Moran, Salma Muhammed Al-Sheabani, Marleen Ogada, Pranay Patel, Rachel Prongay, Nia Rencher, Abigail Reynolds, Lauren Socha, Dylan Spagna, Alicia Wallace
---
---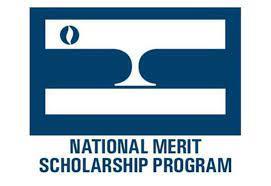 CONGRATULATIONS NATIONAL MERIT SCHOLARS
National Merit Scholarship FINALIST Justin Tullo
National Merit Scholarship Commended Students
Edward Haw
Jack Ostrander
Annie Vallamattan
David Zhang
The National Merit® Scholarship Program is an academic competition for recognition and scholarships that began in 1955. Approximately 1.5 million high school students enter the program each year.
---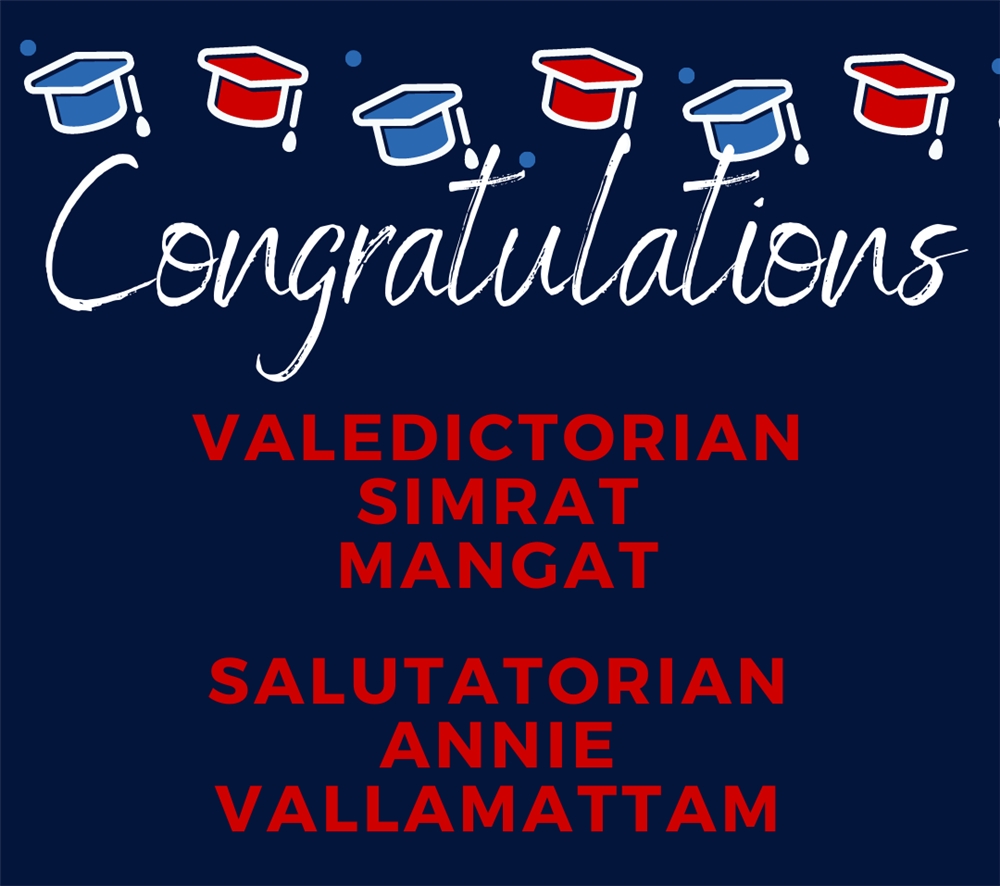 ---
RCK's Cassandra Chorba has performed the National Anthem at many of our school events. We are so grateful that she shares her talent with our community!
Cassandra Chorba sings the National Anthem
---
DEBATE SOCIETY
Six members of the RCK Debate Society participated in the Spring 2022 CESIMS Model UN on April 9th. Three were recognized. Senior Jack Levy was awarded Best Delegate (1st Prize), Senior Stephen Zaken was awarded Honorable Mention (2nd Prize) and Senior Mariam Penalta Azzaoui won Most Improved Delegate. In addition, Senior Ryan Camacho, Junior Eric Johnston and sophomore Jonathan Lichwick also did well.
---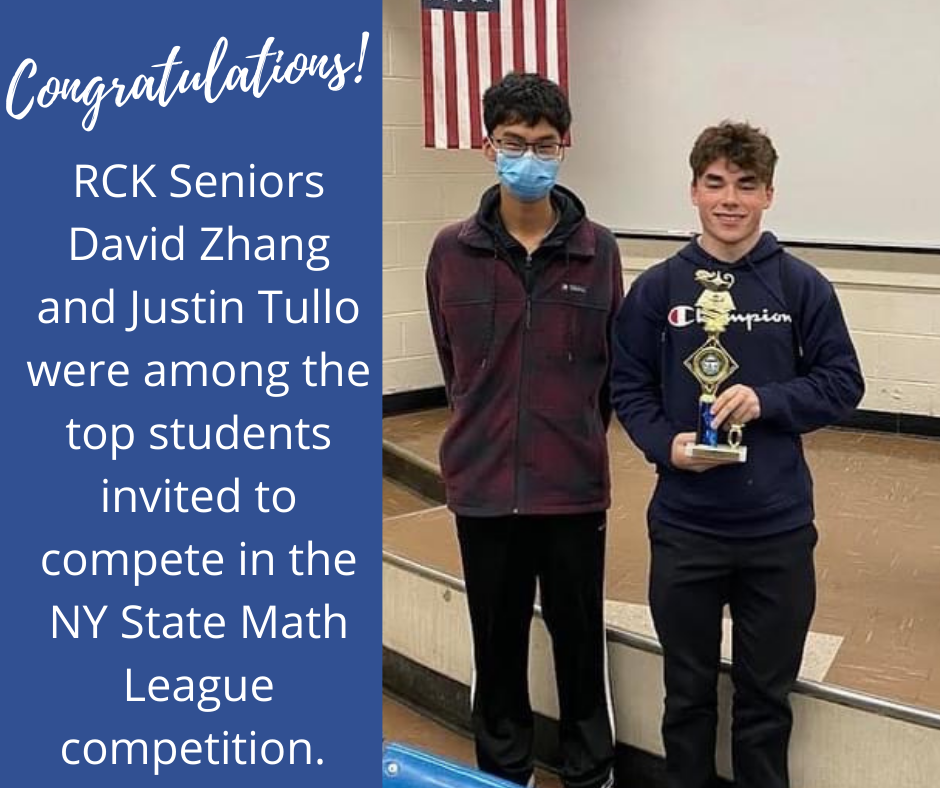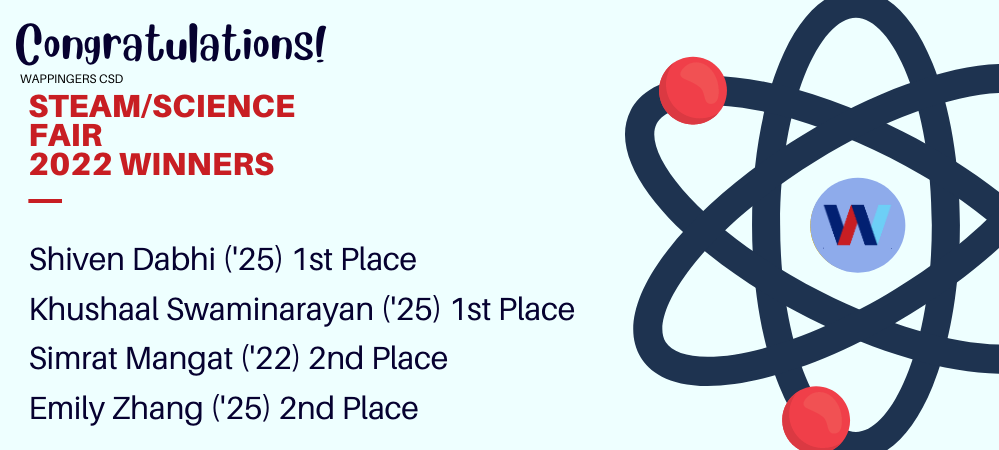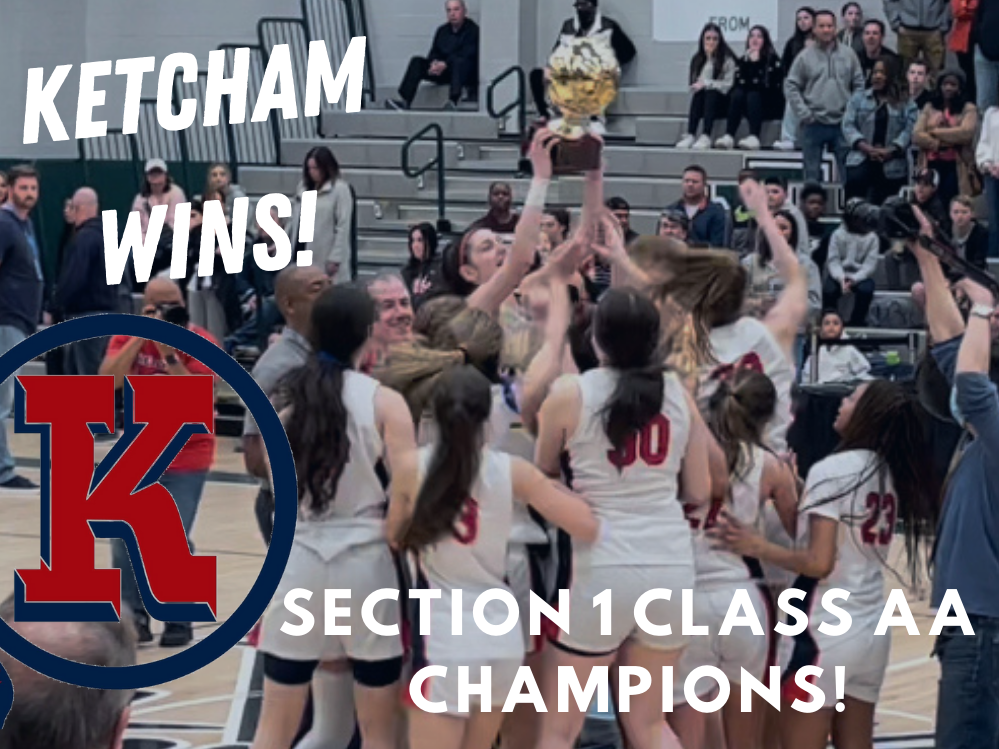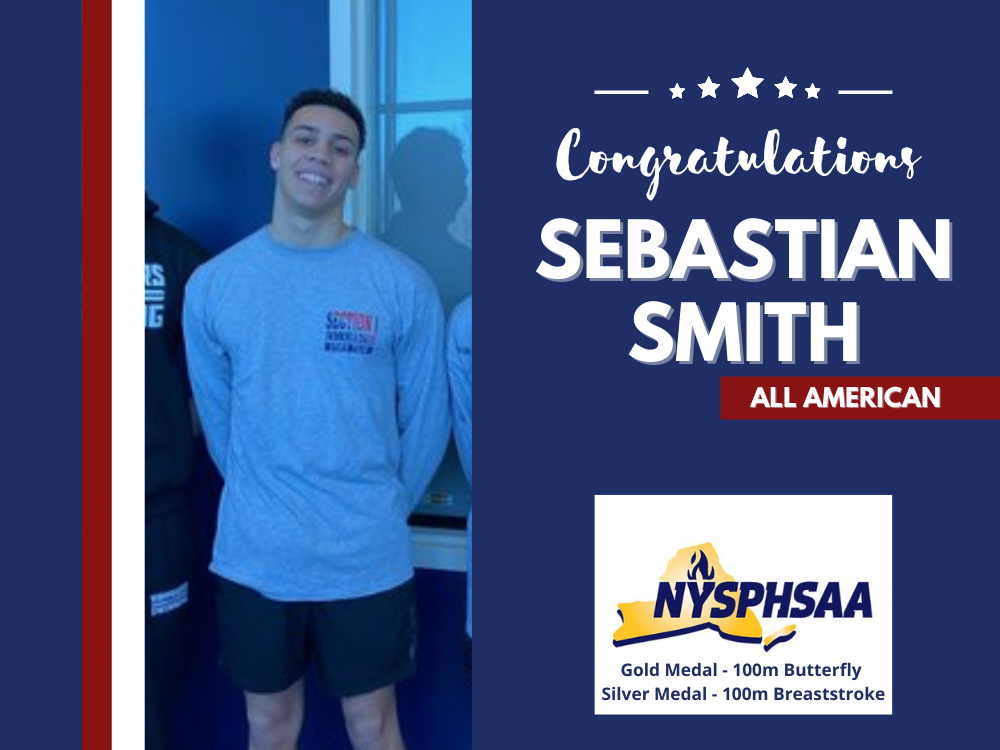 ---
Congratulations to Aidan Marshall ('22) for his commitment to The College of Saint Rose where he will continue his baseball career!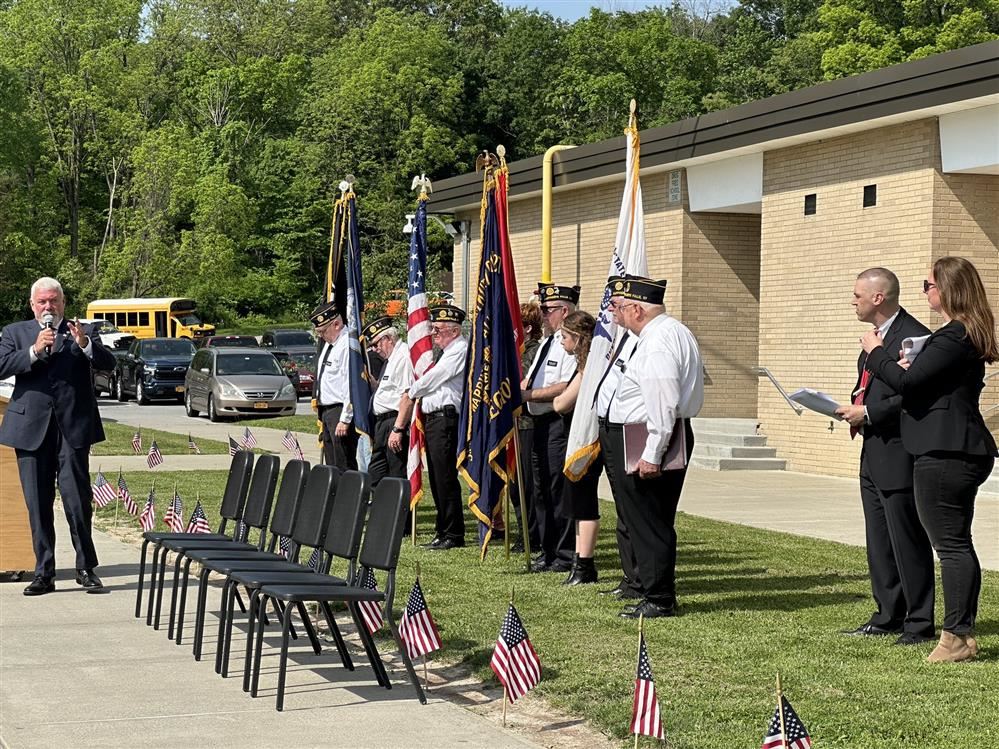 ---
Abby & Nick are headed to states!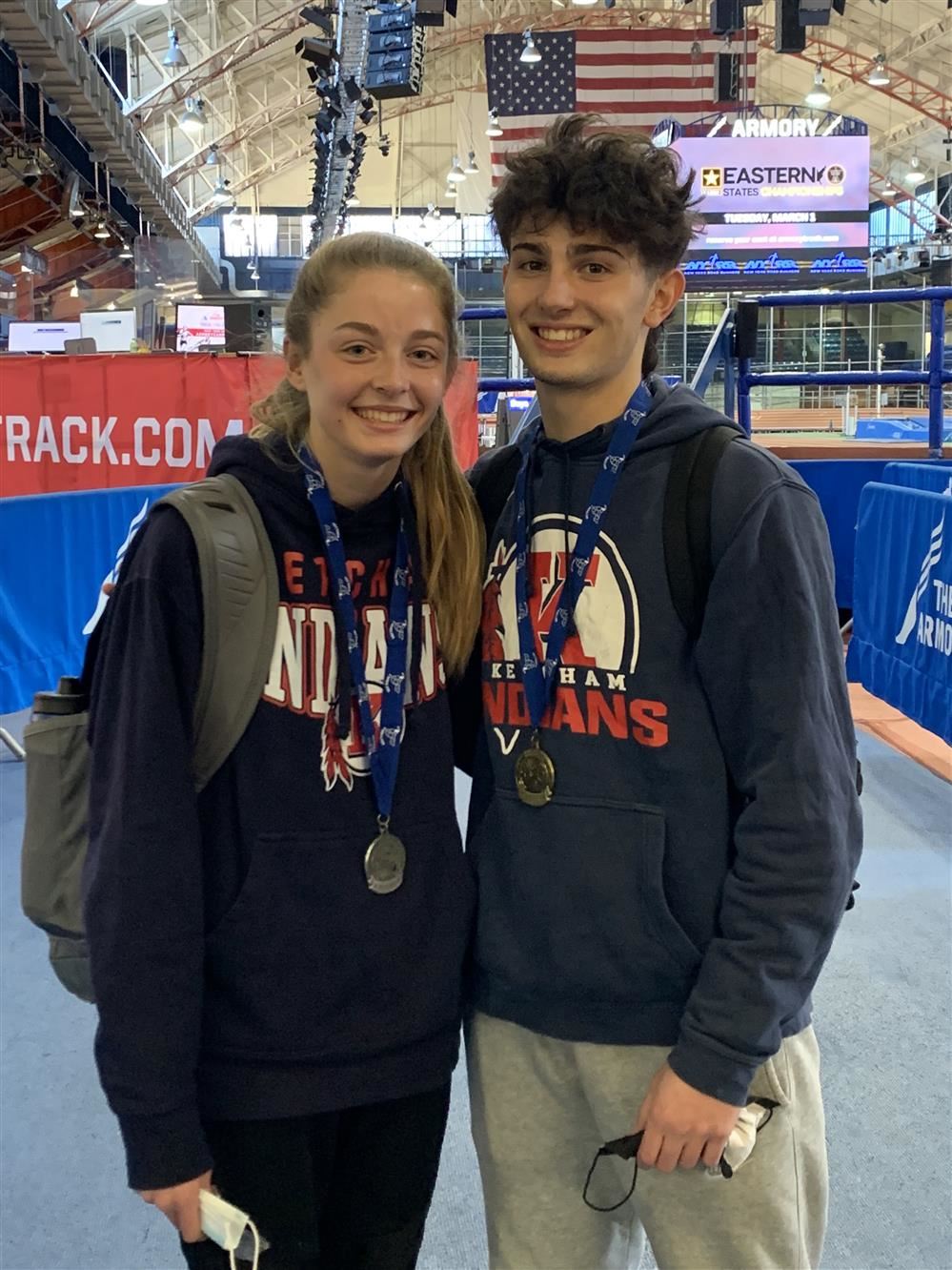 Congratulations to Abby Kowalczyk and Nick Castorina, who qualified for the New York State Track & Field Championships. Nick earned a trip to the State meet by winning the 600m run. Abby placed 2nd in the 1000m run.
Other strong performances include the 3rd place finish by the 4x200 meter relay team consisting of John Hartmann, Ivan Carvalho, Marcus Holloway and Nick Castorina. Jonathan Scampoli finished 4th in the shot put and Hailey Hrouda Hrouda finished 4th in the weight throw. Great showing by the RCK Track & Field team!
---

---
Congratulations Matt Masch for qualifying for the New York State Wrestling Championships. All-Section Wrestlers are (5th) Alex Rathbun, (3rd) Dylan Glickman, (6th) Ernest Suter, (2nd) Matthew Masch, (3rd) Gavin McLaughlin. Ketcham placed 4th out of 32 teams at the Section 1 Championships.
---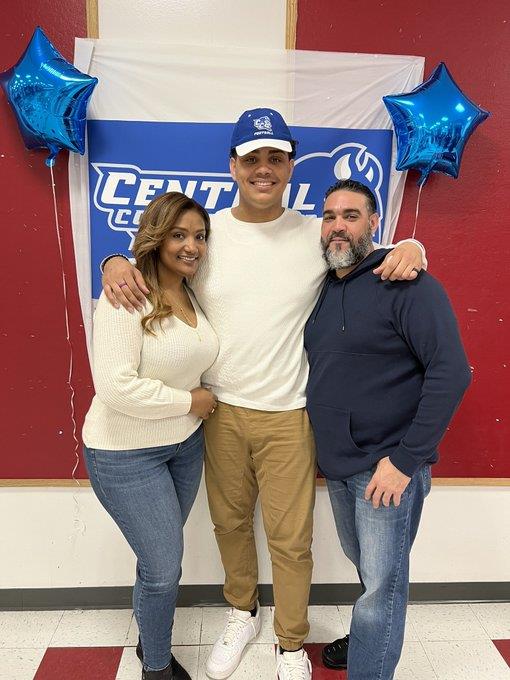 Congratulations to Eric Nunez who has committed to Central Connecticut State University!
---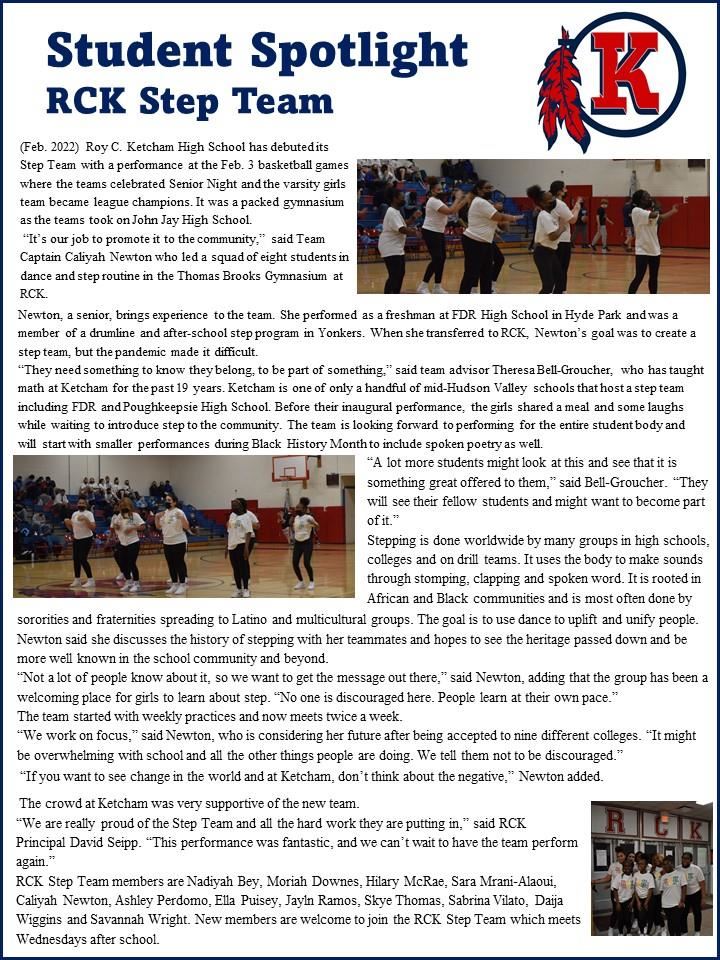 ---
Congratulations to Haley Boom for qualifying for the Section 1 Girls Bowling team that will compete in Syracuse March 11th to 13th!
---
WCSD STUDENTS SHINE AT SCIENCE OLYMPIAD
Congratulations to the RCK and JJHS teams that competed at the annual Mid Hudson Regional Science Olympiad Competition on February 6. More than 30 teams from around the region competed in various levels of team-based, collaborative events in Science, Technology, Engineering, and Mathematics (STEM).
RCK's two teams won 15 medals and placed 8th and 10th overall. A large number of students and teachers helped to make the event an enormous success, including RCK's Charles Ropes, Bob Davis and Bobbi Scirbona.
A complete list of the medal winners and their events can be found at:
https://docs.google.com/spreadsheets/d/1jTZe4LqyLrPIMsLr9tsh7pS8GjaJn8T0pHJXMfmbPWU/edit?usp=sharing
---
MASCH IS PoJo PLAYER OF THE WEEK
Congratulations to Ketcham wrestler Matt Masch on winning the Journal's Player of the Week poll. The junior won the 145-pound bracket of the divisional tournament that RCK hosted. He received 3,775 votes (37.4%) to win the honor (1/31-2/6).

---

---
RCK STEP TEAM
The RCK Step Team had its debut performance on Feb. 3 during the Girls' and Boys' basketball games. The team was created by senior captain Caliyah Newton and is led by advisor Theresa Bell-Groucher.
RCK Step Team members are Nadiyah Bey, Moriah Downes, Hilary McRae, Sara Mrani-Alaoui, Caliyah Newton, Ashley Perdomo, Ella Puisey, Jayln Ramos, Skye Thomas, Sabrina Vilato, Daija Wiggins and Savannah Wright. New members are welcome to join the RCK Step Team which meets Wednesdays after school.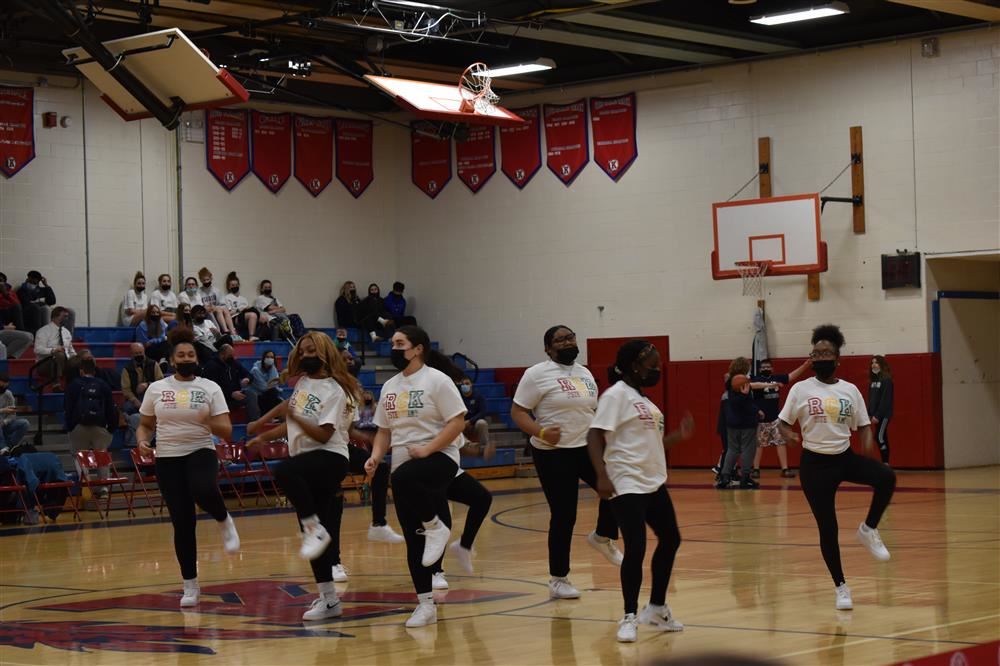 ---
CONGRATULATIONS TO JOCELYN LICHWICK ('22) FOR SIGNING WITH STONY BROOK UNIVERSITY. JOCELYN WILL JOIN THE DIVING TEAM AND PLANS TO BIOMEDICAL ENGINEERING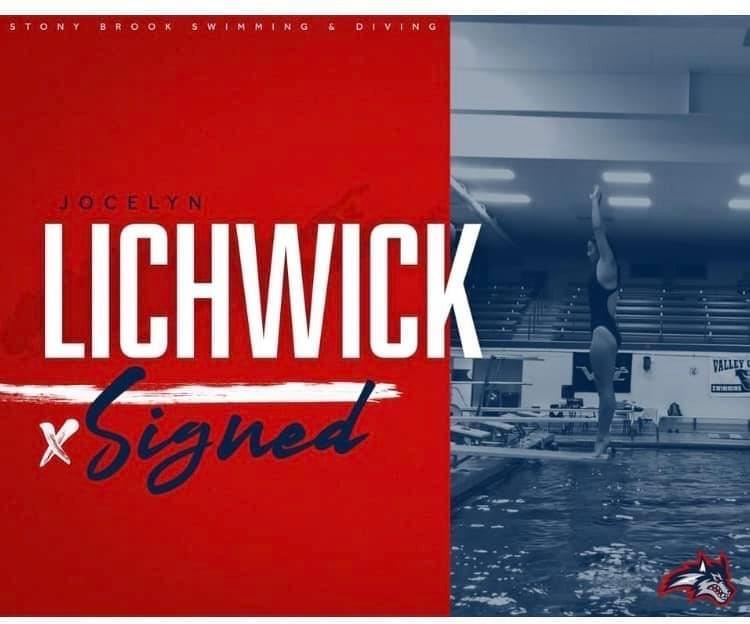 ---
SCIENCE OLYMPIAD
Congratulations to the following Science Olympians for performing so well at the Regional tournament at John Jay on February 5. Finishing first in Detector Build were Ryan Tang and Mandy Zhang. Placing second in Detector Build were David Zhang and Shiven Dabhi. The duo also earned a silver in WIFI. Annie Vallamattan, Aksat Shah and Patrick Yen placed second in Experimental Design. Lastly, placing third in Astronomy were Jonathan Lichwick and Enson Ziao. Overall, the team won 15 medals. Great job to all!
---
WRESTLING

Congratulations to the wrestling team for winning the Division D Section One Qualifier Tournament. 11 wrestlers earned their way into the Section One Championships.
1st Place: Alex Rathbun, Matt Masch, Gavin McLaughlin.
2nd Place: Dylan Glickman, Noel Martinez.
3rd Place: Eddy Corporan, Mike Monte, Jonah Usher.
4th Place: Nate Cortez, Dylan Fay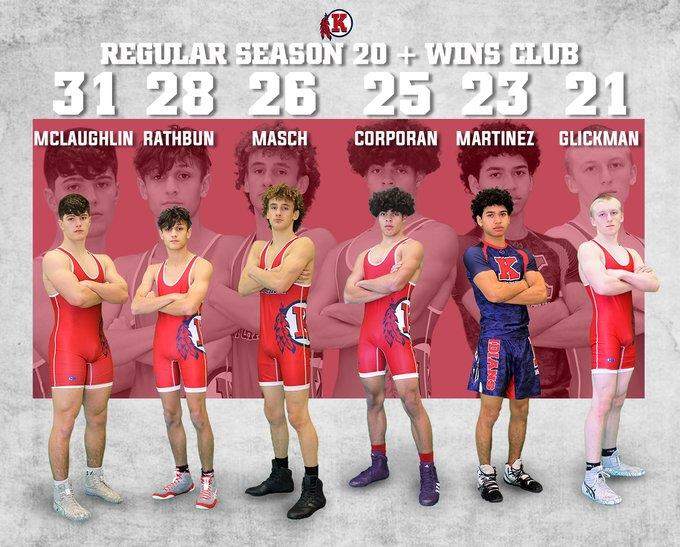 ---
TRACK & FIELD
TRACK & FIELD
Congratulations to the Ketcham Girls and Boys teams for their many great performances at the Class AA meet on Feb. 5 at the Armory. For the girls team, Abby Kowalczyk finished 2nd in the 1000 meter run while Hailey Hrouda placed 3rd in the weight throw. As a team, the boys finished 3rd overall. For starters, Nick Castorina finished 2nd in the 1000 meter run and broke the old school record in the process. Jon Scampoli placed 2nd in the shot put, Nick Taylor was 3rd in the 600 meter run and Connor Hitt was 3rd in the 1600 meter run. For the relays, the 4x800 meter relay consisting of Connor Hitt, Nick Taylor, Zander Brown and Justin Tullo, and the 4x200 meter relay team of John Hartmann, Ivan Carvalho, Marcus Holloway and Nick Castorina both finished in second place. Overall, nearly all athletes achieved their best times or marks. Great job! Great showing
---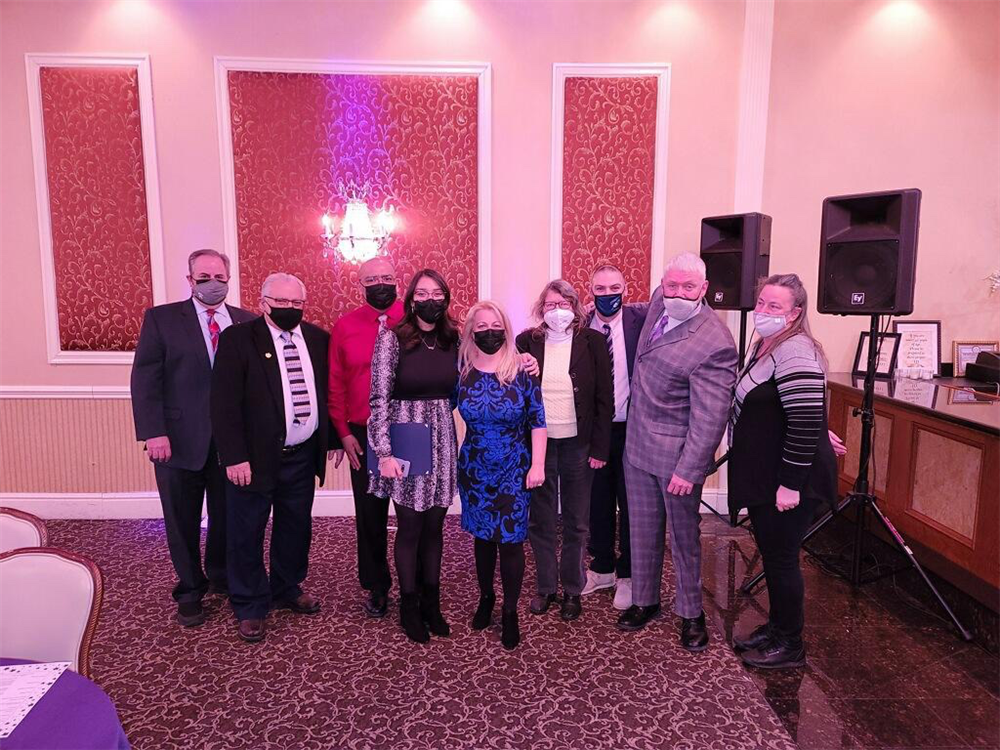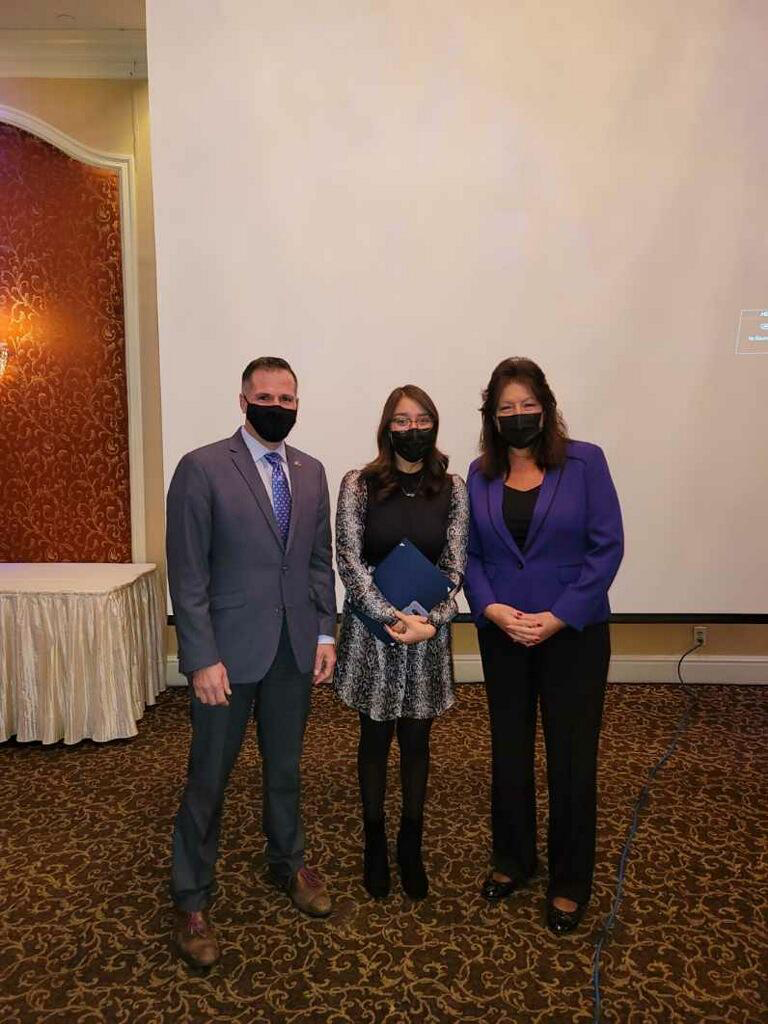 Congratulations to Tatiana Blackhorse ('22) on receiving the Catharine Street Community Center Youth Honoree Scholarship presented at the 31st Dr. Martin Luther King Jr. Breakfast. To learn more about this community organization, visit https://catharinecenter.org/
---
Congratulations to Gianna Hyde for being the January 2022 Rotary Student of the Month! She was honored at a luncheon sponsored by Rotary 7210. Find out more about this service organization online.
---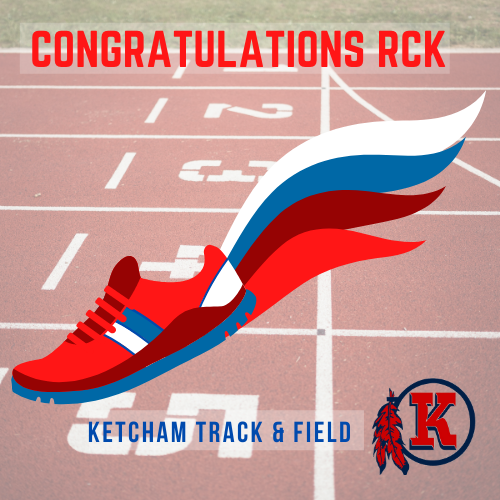 TRACK & FIELD - SUFFERN INVITATIONAL
Congratulations to Nick Castorina for winning the 1600 meter run and Moses Stevenson for winning the high jump at the Suffern Invitational on Jan. 14, 2022. In the distance events, a pair of second place finishes were achieved by Connor Hitt in the 3200 meter run and Abby Kowalczyk in the 3000 meter run. In the sprints, Phoenix Stevenson placed 2nd in the 55 meter dash. Great job athletes!
---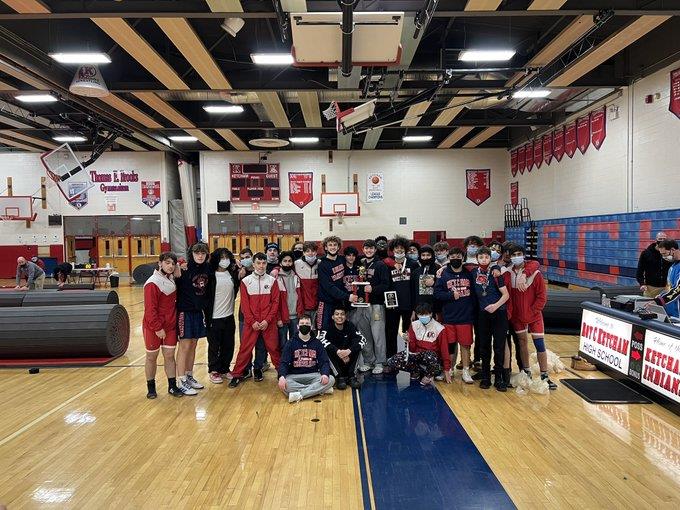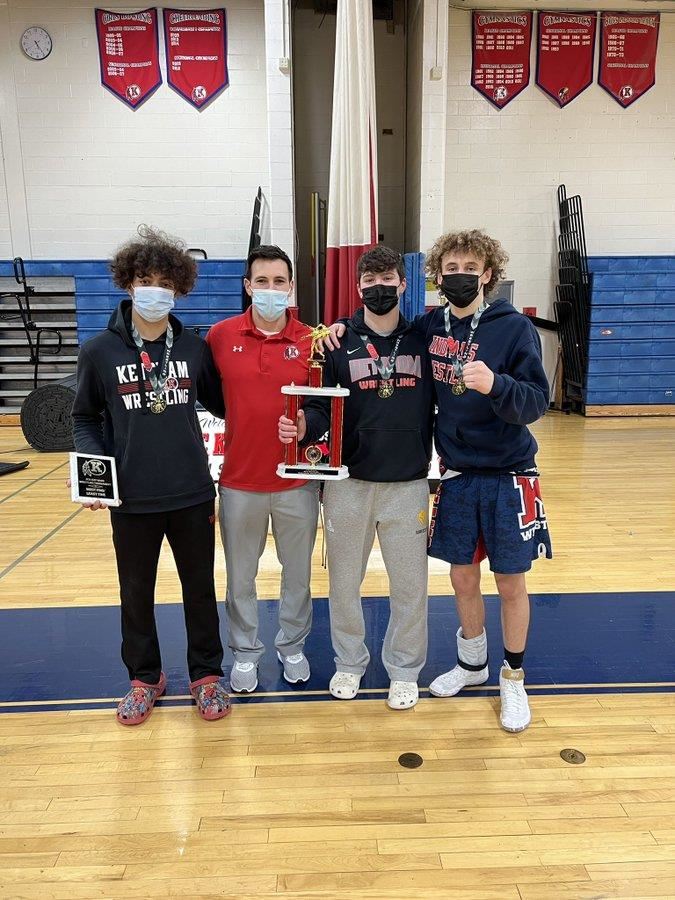 Congratulations to RCK for the 2nd Place finish at the annual Mat Wars competition!
145lbs - Matt Masch (1st)
152lbs - Eddy Corporan (1st)
170lbs - Gavin McLaughlin (1st)
Alex Rathburn, Noel Martinez (2nd) Mike Monte (3rd)
Eddy Corporan won Most Pins/Least Amount of Time (5 pins)
---
Congratulations to the many great performances by the track and field team at the Dendy Invitational at Rockland Community College on Jan. 6, 2022. The following girls all won their events:
Jocelyn Lichwick in the 55m hurdles
Phoenix Stevenson in the 55m dash
Abby Kowalczyk in the 1500 meter run
Emily Marchant in the pole vault
Madison Kaminski, Jamie Kelly, Jocelyn Lichwick and Abby Kowalczyk won the 4x400 meter relay.
The following boys placed first in their events:
Kaiden Turner in the 55 meter dash
Moses Stevenson in both the high jump and the long jump.
Many other athletes achieved their personal bests in their respective events. Great job to all athletes!
---
Congratulations to Gabriella Quinones ('22) who has committed to continuing her softball career at Chestnut Hill College in Pennsylvania. We look forward to following her success!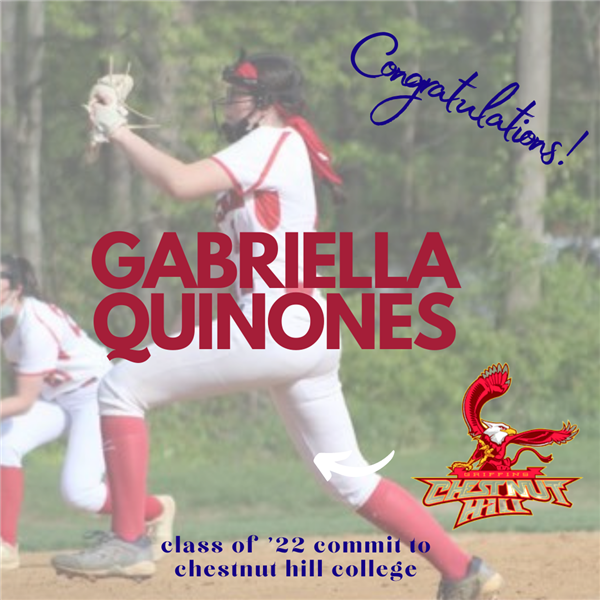 ---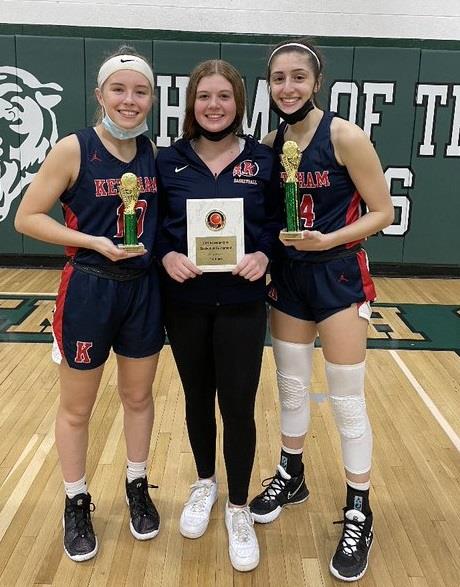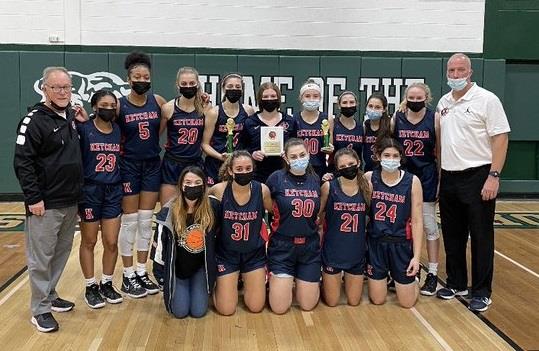 Congratulations RCK Girls Basketball - Champions of the 2021 Brewster Holiday Tournament!
Congratulations to tournament All Tourney Jenny Nardelli, Most Inspirational Camryn Greene and MVP Cali Chiocchi
---
TRACK & FIELD
Congratulations to Abby Kowalczyk for winning the 1,000 and 1,500 meter runs at the Freshman/Sophomore meet at Rockland Community College yesterday. For the boys, Connor Hitt won the 1,600 meter run. Sade Reyes and Savanna Stevenson also had strong performances in the 55 and 300 meter dashes.
---

On December 13, the cheer teams at Ketcham and WJHS came together to collect and sort food donations for Fostering Hope Together. With our school and communities help, these athletes were able to supply 25 holiday dinner baskets and additional food donations for Dutchess County foster families. And after all their hard work, they paused for a photo with a very special guest!
---
TRACK & FIELD
Congratulations to Abby Kowalczyk for breaking the school record in the 3000 meter run at the Dec 14 meet at RCK. She also equaled the 1600 meter record during the race.
Individual event winners include Jocelyn Lichwick, Phoenix Stevenson, Hailey Hrouda, Nick Castorina, Connor Hitt, Kaiden Turner, Jon Scampoli and Moses Stevenson. Great job by all!
Congratulations to Sebastian Smith on making a state cut in the 100 freestyle with a time of 46.93 and in the 100 backstroke with a time of 53.57. Sebastian will be competing at Ithaca College in early March to race all the top swimmers in New York State.
---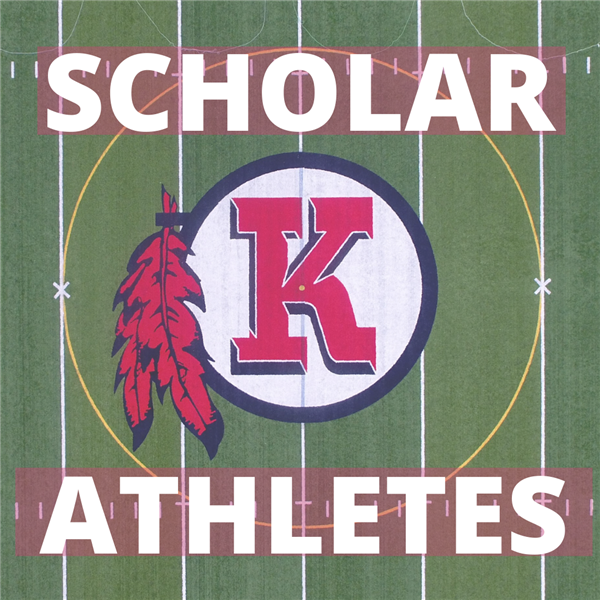 CONGRATULATIONS TO OUR FALL 2021 SCHOLAR ATHLETES. SEE THE COMPLETE LIST
---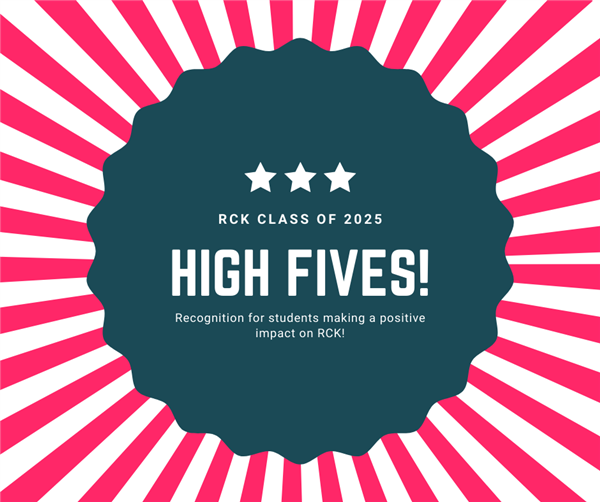 The RCK Class of 2025 has a new initiative called High Fives, where students are nominated and recognized for having a positive impact on our school. The students receive a treat and a certificate as a way of praising their hard work! Great job Class of 2025!
The first group of recipients are:
Katerin Lopez Romero, Landon Goodrich, Gianni Morris, Isabella Digirolamo, Madisyn Travers, Mattie Betts, Kristen Leiladhar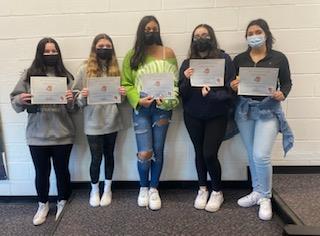 ---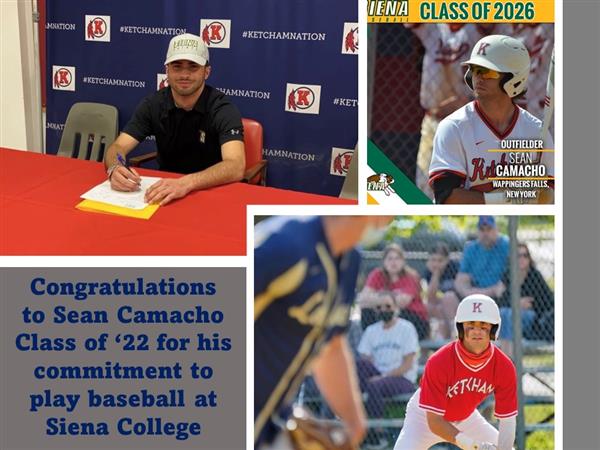 ---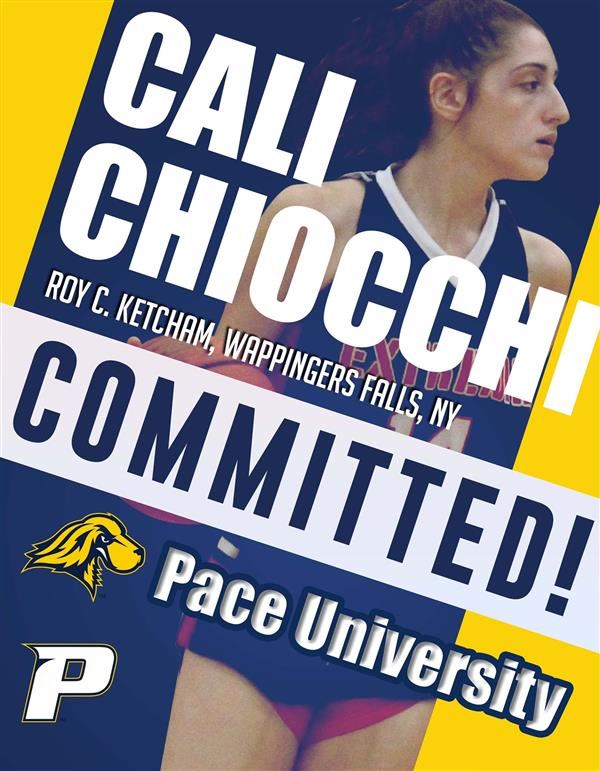 Congratulations to Cali Chiocchi '22 for committing to Pace University to continue her basketball career!
---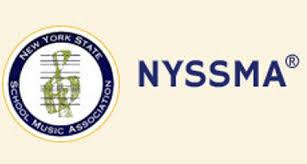 A select group of outstanding Ketcham musicians participated in the Area All-State Festival to perform in both the Symphony Orchestra and Band. Students were selected based on their outstanding scores at the NYSSMA Solo & Ensemble Evaluation last May. They rehearsed with the other top players from the region and performed in concerts in Brewster. Congratulations to:

Amanda Arvelo, Sophia Cheng, Noah Rebecca, Tatiana Blackhorse, Matthew Lechocinski, Jennie Po, Brain Ng, Natalie Hilton, Marco Cordova, Isabella Williams, Jack Levy, Thomas Ostrander, Jack Ostrander and Eric Johnston.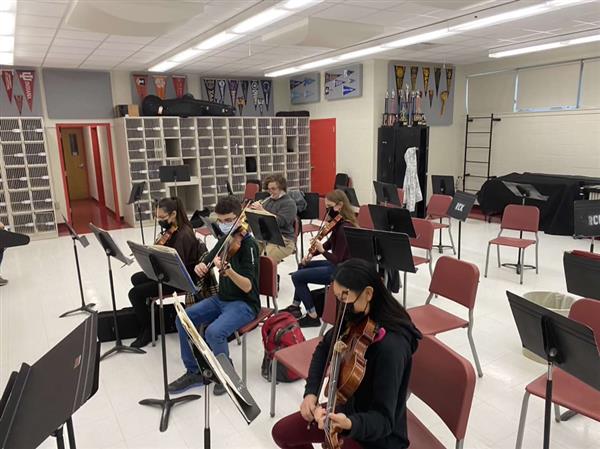 ---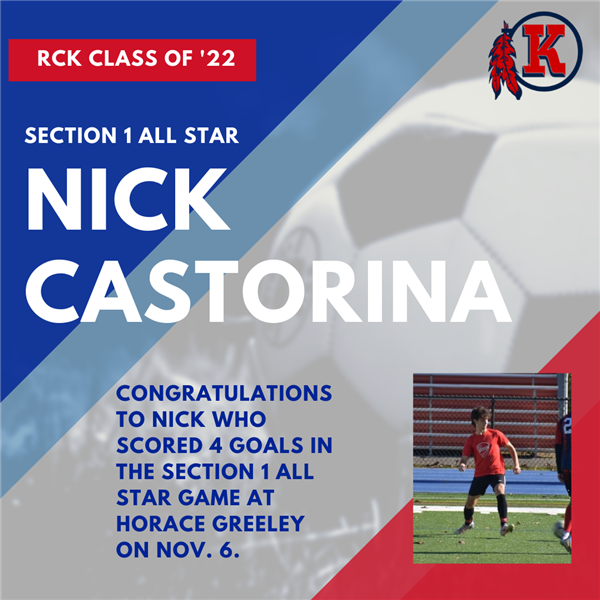 ---
Congratulations to Eddy Corporan who earned All-League honors at the October 12th cross country league meet at Bowdoin Park.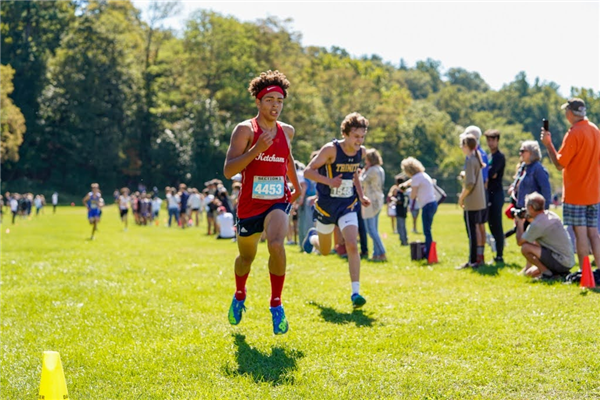 ---
RCK Red Cross Club had a busy and productive week serving our community. The club hosted a Blood Drive at School on Oct. 5 and also marched in the annual Wappinger Community Day Parade on Oct. 9. We are very proud of all this club does for our school and for our community.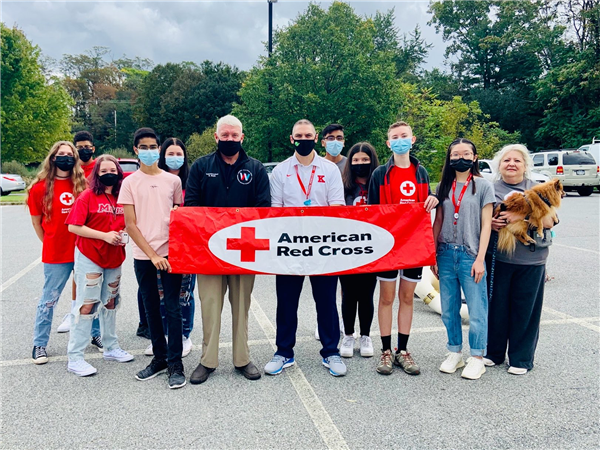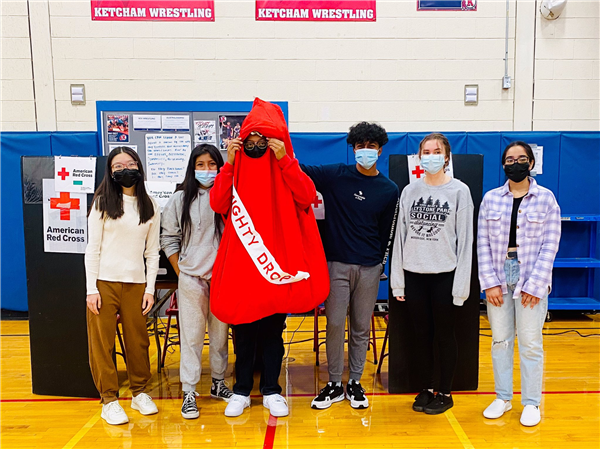 ---
RCK Cross Country had a great showing at the Bowdoin Classic at Bowdoin Park on Sept. 25.
Abby Kowalczyk had a terrific race, finishing third overall in her race with a time of 20:33. Abby is now #2 all-time for a Ketcham athlete on the Bowdoin course, and she is only a freshman! In addition, she would have finished 5th had she run in the boys race for RCK.
For the boys, Connor Hitt had a strong performance moving up from 25-30th place early in the race to finish 14th out of a field of 115 runners!
Not to be overlooked, many of the other athletes on both the boys and girls teams ran personal bests!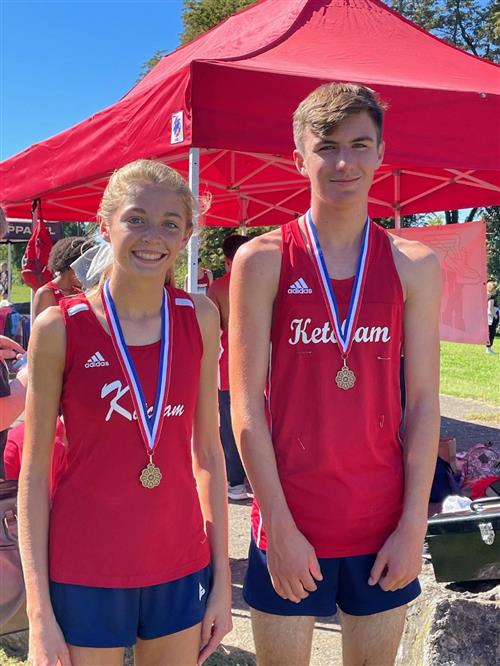 ---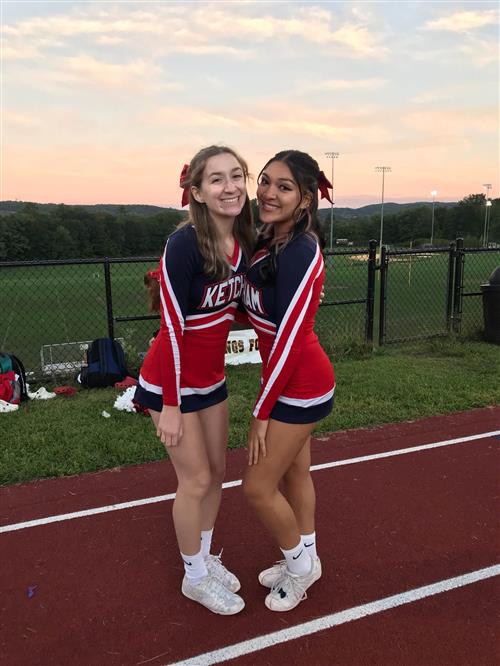 Seniors and Varsity Cheer Captains Samantha Spadaro and Josie Sanchez pause for a quick photo at RCKs Varsity Football Game on 9/24/21.
Sam & Josie are leading a team of 20 athletes this fall season, teaching cheers, assisting coach with practices and leading the way for all their team athletes to have a fantastic season. Both these seniors are passionate about their sport & lead with positivity and compassion! They embody the Ketcham Nation and cheerleading spirit and are excellent role models for their underclassmen teammates!
---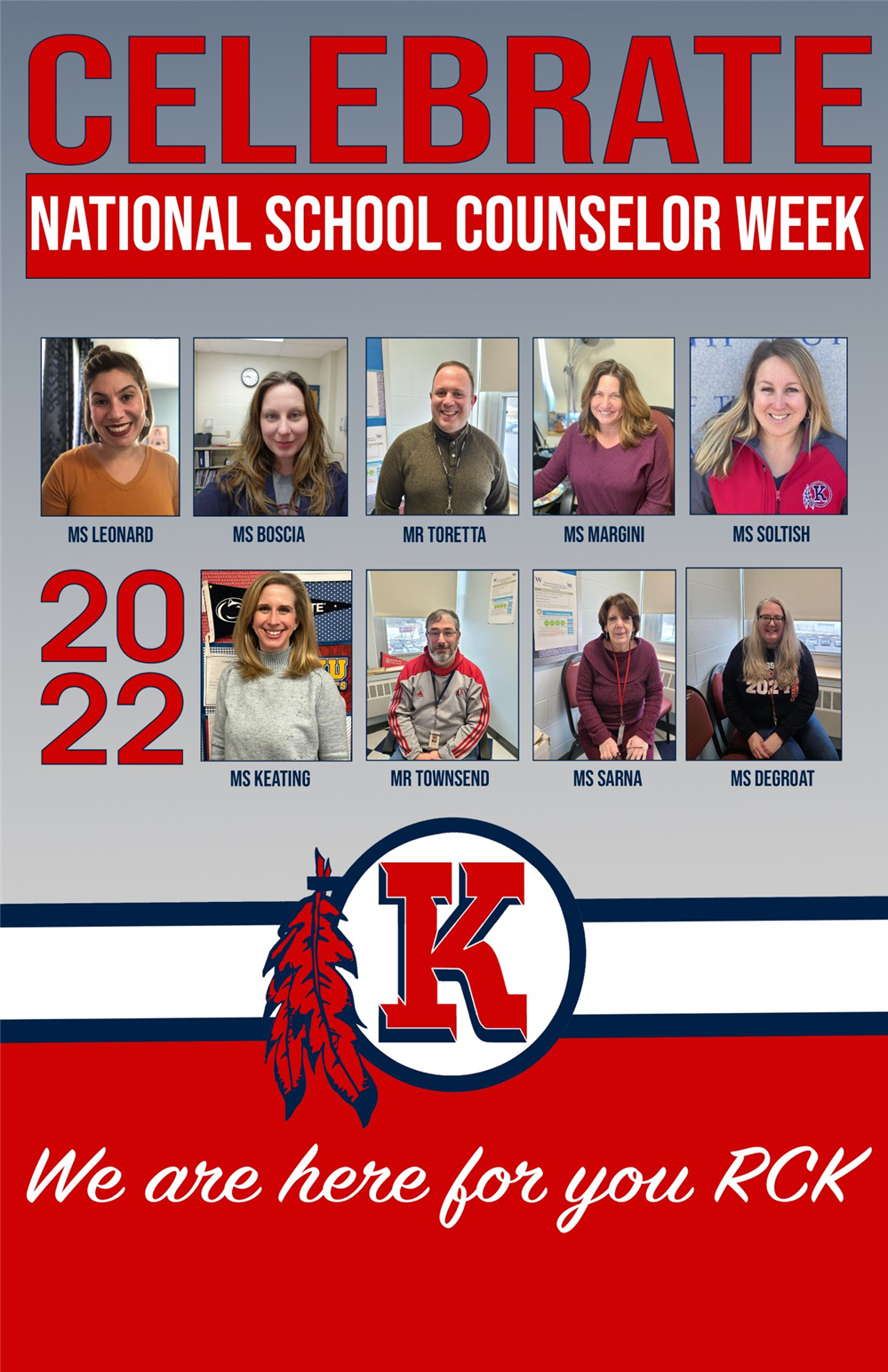 RCK Football had a 32-29 victory over Clarkstown South on Sept. 24. Sean Camacho ran for two touchdowns, including an 89-yard touchdown run. Avant Owens had three touchdown carries, including one of 47 yards and another of 35 yards.
---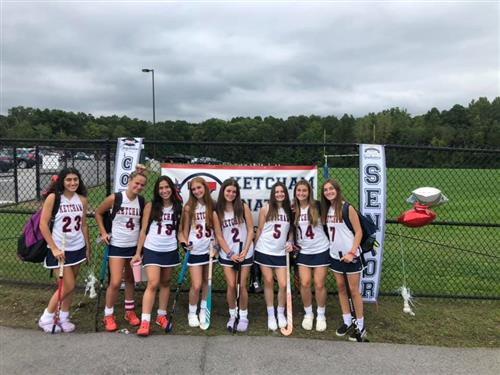 Ketcham Field Hockey - league champions the past four years - held Senior Night on Sept. 17 to honor the 8 players from the Class of 2022. These athletes have made an impact on and off the field! In addition to celebrating with family, friends, teammates and the RCK community, the team enjoyed a 12-0 victory over Lourdes.
---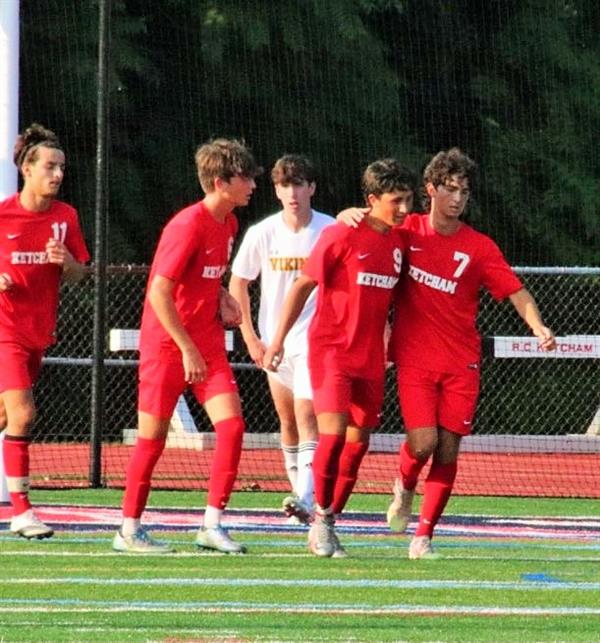 The RCK boys' soccer team had an impressive 5-3 win over Clarkstown on Sept. 13. Nick Castorina – 2 goals, 1 assist; Ryan Zindler – 2 goals, 1 assist; Tyler Jankowski – 1 assist and Brandon Castorina – 1 goal, 1 assist. Brandon's first varsity goal with the assist from brother Nick. Way to go RCK!
---
CONGRATULATIONS to Connor Hitt and Abby Kowalczyk for their superb performances at the Warwick Valley Wave Mania cross country invitational. Connor placed 3rd overall in his race of over 100 athletes while Abby placed 4th out of about 70 girls. Both athletes established new personal bests on a relatively soft and slow course.