Return to Headlines
Immunizations Requirements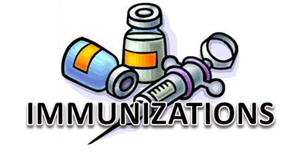 Immunization Information- Click here
On October 12, 2020, the NYS Department of Health sent a letter to school Administrators titled: "Guidance for School Administrators Regarding Limited Temporary Enforcement of Student Immunization Requirements"
This letter notified Districts to a grace period of 30 days from 10/12/20 easing the need to enforce immunization requirements for students attending school exclusively through remote learning. This grace period is set to expire on November 11th, 2020.
The District was informed, that during this grace period, students engaged in remote learning must obtain all required vaccinations, if they have not already, to be eligible to continue attending school following the expiration of this grace period (which ends on 11/11/20).
All school aged students must have received a complete series of vaccinations and/or be "in-process" of receiving all scheduled vaccines in order for enrollment to continue. This includes our Jr. & Sr. High School Students who are only starting to transition to hybrid learning, This also pertains to "remote only" students, if you plan to remain virtual/remote for the foreseeable future these immunization requirements still apply.
Any student's who have been identified as having incomplete immunization records have already received a call from our health offices. If we do not receive notification of immunization / "in-process" of immunization by November 11th, student enrollment will be suspended.
If you have any questions specific to your child, please contact your school's health office for further information.
Thank you