Return to Headlines
Calendar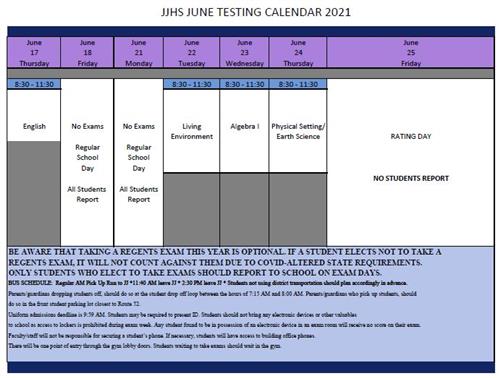 In order to properly prepare for Regents Examinations, we will soon be asking students to complete a survey that will let us know whether they plan to take a Regents or not. It is suggested that students keep a copy of their response.
Be aware, that taking a Regents Exam this year is optional. If a student needs help making the decision whether to take a Regents or not, they should speak to their teacher, school counselor and/or parent/guardian. If a student elects not to take a Regents Exam, it will not count against them due to COVID-altered State requirements. Students who pass a Regents level course, will still receive Regents credit even if they elect not to take the exam. Students who elect to take a Regents Exam will have the option to have their regents score appear on their transcript or not.
All Regents Exams will be administered in the morning, beginning at 8:30 am and students will be required to stay for the entire 3-hour period.
There will be a regular John Jay morning bus pick up. Only students who elect to take a Regents Exam are to attend school on exam days. Upon arrival at school, students who will be testing will be asked to wait in the gym until they are directed to the cafeteria where the exams will be administered. Students who utilize district transportation will arrive at 7:25 am, and students who will be driven in must arrive no later than 8:00 am. Parents/guardians are asked to use the student drop off loop so that students can safely enter the building.
Cell phones and other electronic devices, including smart watches, are not to be brought into an exam room. Teachers and staff will NOT be able to hold these devices and access to lockers is prohibited, so plan accordingly. If a device becomes visible or is heard, the exam will be invalidated.
Further exam week information will be sent electronically and posted in the building in the coming days.