Return to Headlines
FBLA State Competition Recap
John Jay High School Future Business Leaders of America
New York State Competition – April 2019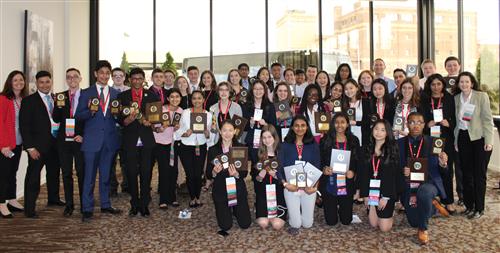 Future Business Leaders of America from John Jay Senior High School had an outstanding year at the state competition in Rochester last week where they competed for three days against 640 students from 55 districts. The academic team racked up more wins than ever before and scored an unprecedented number of first, second, and third place honors to earn their way to the National Conference in San Antonio in July.
The chapter as a whole received two awards for:
"Partnership with Business" for work cosponsoring John Jay's annual College and Career Fair. This event was managed and submitted by senior, Mia Emig.
"Community Service Project" for work supporting the March of Dimes through a "Letters from Santa" fundraiser. This event was managed and submitted by freshman, Adriana Bilenky.
In student competitions, while representing only 5% of the competitors, John Jay took home 10% of the 1st place awards, an unprecedented number, including the following team events:
Parliamentary Procedure: Carl DeMarco, Richmond Addae, Dilynn Kessler, Saathu Nagareddy, and Riva Shukla – 1st
Management Decision Making: Chelsea Commodore, Michael DeRobertis, and Shaily Jani – 1st
E-Business: Vasudha Kilambi and Catherine Tan – 1st
In individual events, freshmen and sophomores brought home all of John Jay's 1st place wins:
Sales Presentation: Vasudha Kilambi
Basic Decision Making: Rohan Ganesan
Business Law: Adriana Bilenky
Journalism: Gianna DeNivo
Overall, John Jay earned 12 additional second and third place awards including three new events in computer science. Teams earning a place at nationals in San Antonio included:
Computer Game Design – Amy Zhou, Neha Sandesh, and Richmond Addae – 2nd
Mobile App Design: Michael DeRobertis and Steven Estrella – 3rd
Global Business: Neha Sandesh, Tanvi Athavale, Amelia Chen - 3rd
Individual competitions often had 50 – 100 students vying for a place on the stage. John Jay students earning an invitation to nationals included:
THE Future Business Leader: Amy Zhou – 2nd <-- This is the most prestigious award in NYS FBLA
Impromptu Speaking: Chelsea Commodore - 2nd
Advertising: Allison Yu - 2nd
Coding and Programming: Aryan Gupta - 2nd
Health Care Administration: Melissa Peters - 2nd
Intro to FBLA: Shirley Smit - 2nd
Intro to Financial Math: Catherine Tan - 2nd
Resume and Cover Letter: Riva Shukla - 2nd
Securities and Investments: Tanvi Athavale - 2nd
Intro to Business: Gianna De Nivo - 3rd
This year, the chapter earned no 4th place awards, but placed 5th in 10 events including freshman Di Chen in Business Law and sophomore Sanjay Natesan three times in: Introduction to Public Speaking, Introduction to Financial Math, and Cybersecurity.
We are also proud to report that sophomore Riva Shukla won John Jay's first spot on the FBLA New York State Officer Team and will be serving as the NYS Reporter for the 2019-2020 school year.
Besides making their mark as an outstanding group of aspiring business managers, politicians, scientists, and journalists, John Jay's underclassmen also set up a spontaneous team of high spirited and energetic sleuths to win the Goose Chase competition, proving that you can do business and also be the most fun-loving kids on the block!
Congratulations to all 33 outstanding John Jay students who competed in this year's New York State FBLA competition!