Return to Headlines
Budget Vote and School Board Election - May 18, 2021
Annual Budget Vote and School Board Election
Date: Tuesday, May 18, 2021
Time: 7:30 a.m. to 9:00 p.m.
Location: Find Your Designated Poll Site (for in-person voting*)
It is strongly recommended that voters should consider
avoiding student arrival and dismissal times at the schools (see below).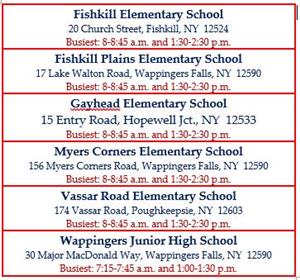 *If you are uncomfortable coming into the school to vote due to the risk of contracting COVID, you may request an application for an absentee ballot. When completing the form, check the box "temporary illness or physical disability" to receive an absentee ballot. The application for an absentee ballot can be found below.
Voters may visit the District Office to complete the application and immediately receive a ballot Monday through Friday between the hours of 8:00 a.m. and 4:00 p.m. Applications are also accepted via email. The application must be received by May 11 in order for a ballot to be mailed to a voter. If you plan to pick up your ballot, we must receive your application by May 17. Completed absentee ballots must be received by the District Clerk by 5:00 p.m. on May 18.
District Clerk Alberta Pedro - email: alberta.pedro@wcsdny.org;
phone: 845-298-5000 ext. 40145; fax: 845-896-1693
25 Corporate Park Drive, P.O. Box 396, Hopewell Junction, NY 12533
Absentee Ballot Application - English (PDF)

Absentee Ballot Application - Spanish (PDF)
Click the link for more information on the
Budget and Bus Propositions, and Board Member Candidates
The Public Hearing on the 2021-2022 School District Budget is scheduled for
Monday, May 10, 2021 at 5:30 pm.
The Budget Public Hearing may be viewed via remote live stream
@ WCSD MEDIA on YouTube.
A recording will also be uploaded to the video library for viewing at a later date.
The public will have the opportunity to submit comments on the form:
https://forms.gle/dSNokK9uRVsXgpvu8 (activated at 5:00 p.m. on 5/10/21).