Welcome to Roy C. Ketcham Senior High School
"Dedicated to Excellence"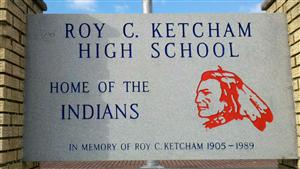 "The mission of the Wappingers Central School District is to empower all of our students with the competencies and confidence to challenge themselves, to pursue their passions, and to realize their potential while growing as responsible members of their community."
June 2015
CONGRATULATIONS RCK Class of 2015
April 2015
Congratulations to our outstanding music department!
We are proud to announce the Wappingers Central School District has been recognized by the NAMM Foundation
for its outstanding commitment to music education with a
Best Communities for Music Education designation.
--------------------------------------
February 2015
Congratulations to RCK's Science Fair winners! This year's fair was a great success. These students are eligible to participate in the Dutchess County Regional Science Fair on March 21, 2015.
1st Place
Justin Allen
Meghan Eagleton
Taskinuddin Forkan
2nd Place
Wynter Chen
Maneli Khademirad
Erika Kruk
Michael Ly
Mikayla Millard
Narissara Pisanello
Ritvi Shah
3rd Place
Simon Korby
Shivani Parbhoo
Ankit Parekh
Amanda Veiga Weglarz
----------------------------------
December 18, 2014
As we approach the holiday season and wind down 2014, my best wishes to all for a healthy and happy New Year.
May 2015 be filled with continued growth and dedication to on-going progress for our learning community.
Best Wishes,
Tom Stella
-------------------------------------------------------------
The following message from Mr. Stella was announced to the school today, Friday, December 5.
On Sunday, December 7, 2014, we will be remembering Pearl Harbor Day.
On Sunday morning, December 7, 1941, the American Army and Navy Base in Pearl Harbor, Hawaii was attacked by the Imperial Japanese Navy. The attack came as a surprise to the American Army and Navy and lead to great losses of life and equipment and ushered our entry into World War II.
This Sunday let us take a moment to remember all those who gave their lives on December 7, 1941 and throughout WWII. Let us do so in remembrance and also by thanking someone near you, whether it be a veteran or an active serviceman or woman, for their service to our nation.
--------------------------------
A Thanksgiving Message from Mr. Stella:
Best wishes for a very Happy Thanksgiving, which O. Henry called a "purely American" holiday.
In the words of Oprah Winfrey, "Be thankful for what you have; you'll end up having more. If you concentrate on what you don't have, you will never, ever have enough".
Thanksgiving coincides with the first weeks of the new academic quarter. May the positive spirit engendered by our "Thankfulness" help us focus our best efforts toward greater success.
Happy Thanksgiving!
~~~~~~~~~~~~~~~~~~~~~~~~~~~~~~~~~~~~
A Message from the Principal, Tom Stella
November 5, 2014
November is upon us! It is a month of beginnings and endings and ultimately one
of celebration. Thoughts of the upcoming holidays loom happily on the horizon.
However, first we must remain focused and, indeed, intensify our efforts for
this is a very important month.
The first quarter will soon come to an end on November 14.
I challenge students to finish the quarter strong!
Complete those projects. Stay on top of "countdown" assignments
to your First Quarter grades.
Remember, it's how one finishes the race that counts!
The new quarter begins on November 15.
Hence, start thinking about how you will work to continue
your success or turn the corner to new beginnings toward
successful achievement of your goals.
Be vigilant; Finish strong; Start stronger!
Sincerely,
G. Thomas Stella
----------------------
August 6, 2014
I hope you are all enjoying a restful summer. There are many capital projects going on at RCK.
Our new roof is being installed and we will have new bleachers on the football field come September.
DUE TO THE WORK AT RCK - REGENTS TESTING scheduled for August 13 & 14
has been moved to Wappingers Junior High School.
An important message to RCK 10th, 11th & 12th grade students and families:
Beginning with the 2014/2015 school year, the Wappingers Central School District has moved to a "house cohort plan" for delivering improved counseling and administrative services. In this organizational plan, the grade level guidance counselors are "housed", 2 counselors per grade, in the grade level administrators' offices. This plan is now being utilized by both Roy C. Ketcham and John Jay High Schools.
For the class of 2017 (current 10th graders), the counselors are Mrs. Diane Klemm and Mrs. Jennifer Soltish, who will be housed in Ms. Caroline Pidala's office, the administrator for the class of 2017.
For the class of 2016 (current 11th graders), the counselors are Mrs. Antoinette Sarna and Ms. Suzanne deSimone, who will be housed in Mr. Giovinazzi's office, the administrator for the class of 2016.
For the class of 2015 (current senior class), the counselors are Mrs. Kalah Boscia and Mr. David Townsend, who are housed in the former guidance office suite along with Mr. David Seipp, the administrator for the class of 2015.
We believe that this "house cohort model" has many advantages for our students. If you'd like any further information, please feel free to contact my office at 298-5100 x 31004.
An important message to RCK Freshman and parents (Class of 2018):
You should have recently received the Freshman Orientation letter inviting you to Freshman Orientation here at RCK, which will be held on Aug 25. Parents, please make every effort to attend orientation as I will be presenting the new "house cohort plan" at that time. I look forward to meeting with you at Orientation.
Please do enjoy the remaining weeks of summer vacation and I look forward to seeing you in September.
----------------------------------------