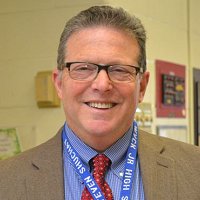 Dr. Steven H. Shuchat,
Principal
Phone: 845-227-1700 x 20005
Email: Steven.Shuchat@wcsdny.org



Biography
Dr. Steven H. Shuchat has close to thirty (30) years of experience working with middle school students as a teacher, coach, and administrator, at all levels and in various capacities.
He graduated summa cum laude from Montclair State College with his Bachelor of Science degree. He then attended Teachers College, Columbia University where he earned his Master of Arts degree and Doctor of Education.
He resides in Hopewell Junction with his wife and son. Dr. Shuchat's research interests are in mobilizing community leaders to act and in building local capacity.