Welcome to Roy C. Ketcham Senior High School
"Dedicated to Excellence"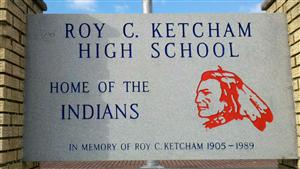 "The mission of the Wappingers Central School District is to empower all of our students with the competencies and confidence to challenge themselves, to pursue their passions, and to realize their potential while growing as responsible members of their community."
SEPTEMBER 22, 2015
**** IMPORTANT MESSAGE FROM THE
PRINCIPAL
****
Please note that school will be held on Wednesday, October 14th for students taking the PSAT/NMSQT Exam ONLY.
High school students who are NOT taking the exam do NOT need to report to school that day.
Please read the letter being sent by School Messenger to parents and guardians. This letter has very important information.
********************************************
August 2015
Dear Students, Parents/Guardians & Colleagues,
A warm welcome back! I hope that you've had a relaxing and productive summer. The 2015-2016 school year promises to be a great one. We continue to improve in terms of our school goals. There is much that we've been working on in preparation of the new school year.
Much work has been done in terms of our physical infrastructure. A brief visit to our campus will impress upon you that we are in the midst of a major building improvement project. Our new windows are being installed and they are truly impressive.
The work will be done as soon as possible during the school year. We are meeting with the contractor and an estimated time of completion will be forthcoming. I will update this information as soon as possible. Allow me to re-assure you that all this work will be done after normal school hours and is completely safe to students and staff. The Department of Labor and the New York State Education Department has approved this installation schedule.
I wish you all a great beginning to the 2015-2016 school year.
Sincerely,
G. Thomas Stella, Principal
-------------------------------------------------------------